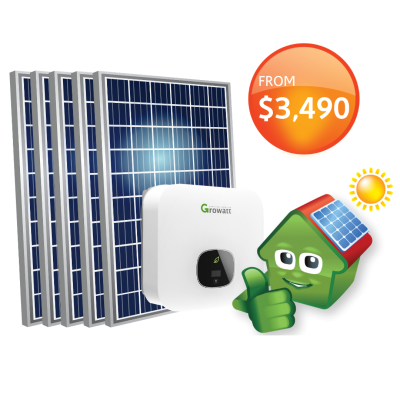 Summer's the perfect time to go solar
The sunny season is when your solar energy system is at its most efficient, which means installing one now will see an immediate and drastic difference to your energy costs!
We here at Solargain are more than happy to help you get set up, with a high-quality 6.6 kW system with tier-1 panels included from only $3,490!*
Solargain is proudly Australian-owned and operated, and has been for over 20 years. That's why we understand the trials of summer in our beautiful sunny nation, and how much it can increase your power bill, what with aircon running whenever possible.
That's when solar is the solution! With rooftop solar systems being at their most efficient in summer, a 6.6 kW system will massively reduce your bills, leaving you with savings to spare. So you could be chilling and relaxing, without sweating your power bills.
More details about this system
Includes a complete 6.6 kW PV system
Includes a Growatt inverter and tier 1 panels, with a free upgrade for seniors
Available for the low price of $3,490*
You'll receive a Licence to Chill card, with a voucher for $50 off your first annual maintenance
Earn up to 5,000 Qantas Points*
To be eligible for this offer, simply receive and accept a quote by 31st of March, 2021
Offer available in Brisbane Metro area
How to earn bonus Qantas Points.
Simply enquire below and provide us with your Qantas Frequent Flyer membership details.
Not a Qantas Frequent Flyer member? Solargain customers can join for FREE here.
Our team will send you an obligation-free quote.
Or you can opt for a free site assessment with NO deposit required.
After your system is installed and your invoice paid, your points will be credited to your account. This can take up to 60 days.
Enter your details and we'll get right back to you
Special Terms and Conditions
This offer is available on a 6.66 kW solar power system with a Growatt 5000 TL-X and 18 x Seraphim 370 W HC panels.

Free panel upgrade to Trina Solar Honey M 370 W half-cut panels is available to seniors cardholders. This upgrade will be made available to other installations based solely on Solargain's discretion.

To be eligible for this offer you must receive and accept a quote by the 31st March, 2021.

License to Chill card to be supplied upon installation. Service discount only available when service is conducted with Solargain.

License to Chill card can be used towards annual maintenance or upgrade to the existing system.

Voucher offer will expire one year after the date of issue.

Savings Guarantee based on 30% self-consumption. Each property requires its own assessment and will be different to any example shown. Yield estimates are indicative only and are based on test conditions. Test conditions may not be achieved in an operating environment. Yield may depend on a number of variable factors including inclination of the place of installation, shade, surrounding structures, trees and plants, irradiation and weather conditions.

Finance is based on Plenti's terms and conditions and is subject to lending criteria and approval.

The information contained in this page should not be taken as financial product advice and has been prepared as general information only without consideration for your particular investment objectives, financial circumstances or particular needs. You should read the Plenti Product Disclosure Statement before making any decision about your investment choices.

Solargain PV Pty Ltd has no role in relation to solar finance. On request, Solargain PV Pty Ltd can refer you to Plenti Finance Pty Ltd to explore a range of finance options that may be available to you.

Fees, charges and conditions apply.

Lender rates are displayed on an annualised basis and net of applicable fees, based on last matched rates. Lender rates may assume reinvestment of borrower payments at the same rate throughout the lending term and assumes your investment is protected by the Provision Fund in the event of any borrower late payment or default. See the Product Disclosure Statement Disclosure Statement for further details.

Plenti RE Limited ABN 571 666 466 35 holds Australian financial services licence number 449176 and Australian credit licence number 449176, and is a member of the Australian Financial Complaints Authority (AFCA).

You must be a Qantas Frequent Flyer member to earn Qantas Points. Read the full Terms & Conditions here regarding our partnership with Qantas Frequent Flyer and the earning Qantas Points.

The eligibility of the offer is conditional upon the entire PV system being eligible for Small Technology Certificates (STCs) under the Small-scale Renewable Energy Scheme.

The offer is subject to connection approval for the PV system by your energy retailer and the assignment of STCs to Solargain PV Pty Ltd. There must be an approved RCD switch installed at the premises where the PV system is to be installed.

The PV system purchased as part of this offer must be installed by Solargain

Offer pricing subject to 2021 installation availability.

Images are for illustration purposes only.

Offer not valid in conjunction with any other offer.

Prices are based on a single-phase, single-storey home. Additional charges may apply.

This offer expires March 31st, 2021 and can be terminated at any time at Solargain's sole discretion.

Offer valid for new quotes only, and only available in Perth and Brisbane metro areas.

Supply and installation are subject to Solargain's Terms and Conditions of Trading, available on our website.

Any network application and meter replacement fees incurred by Solargain will be at an additional cost. These costs will be provided to you at the point of sale.