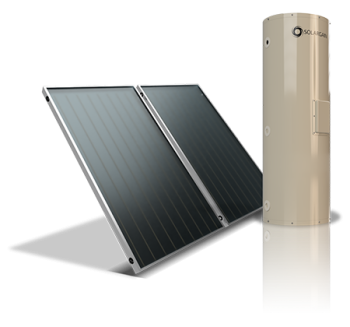 Product Features
All-copper collector with black chrome selective coating
Intelligent pump and controller to maximise solar contribution
Slimline and weatherproof pump station
Danish-made high-efficiency solar pump
4 m² of collector surface area
Aesthetically pleasing design, flexible mounting options
Product Suitability
4 People
Product Warranty
5 year parts and labour on tank and collector
2 year parts solar pump
1 year parts and labour on all other components
Sacrificial Anode Installed
Yes
Temperature Pressure Relief Valve
Yes
Product Description
Solargain's split solar hot water systems are designed to operate and last in Australia's extreme weather conditions. Our flat panel collectors are made of premium copper and anodized alloy, ensuring great resistance and high efficiency. With their good looks, strong shape and top performance, Solargain hot water systems tick all the boxes.
Solar hot water – the smart and economical choice
Heating and cooling is a very energy-demanding application, and water is no exception. Traditional electric hot water systems are one of the household's most energy-demanding devices in the home, often accounting for up 30% of overall household usage. Given that Australia is so rich in solar energy, it makes sense to harness this free source. The system works by pumping cold water into the solar collectors on your roof and using the sun to heat up water. Once the water in the tank is at the desired temperature, the pump shuts off. When you need hot water, you're now using water heated by the sun, as opposed to an expensive heating element in your tank. The heating element is still installed, though, so if you get a few cold days, you're not going to be without hot water.
Superior strength and efficiency
Solargain solar hot water systems are among the strongest, most efficient and most reliable. The systems are impact-tested and certified to withstand a 25.4 mm hailstone travelling at over 80km/h. The collectors have been designed with a copper fin and tube, which is manufactured from the highest grade of copper and ultrasonically welded together. This allows for maximum solar energy transfer. Solargain collectors work harder than most, with one of our collectors achieving almost as much as competitor systems with two collectors due to this improved design. All Solargain hot water systems come with a certificate of compliance, ensuring that your product warranty will not be void and any structural issues will be covered under your home and contents insurance.
Designed by Australians, for Australians
Solargain has spent years designing and manufacturing their own range of solar hot water systems specifically for Australian conditions. With over 20 years of experience in the Australian hot water industry, we can recommend systems with confidence. As one of Australia's largest solar service centres, Solargain is going to be around to support your warranty for many years to come.