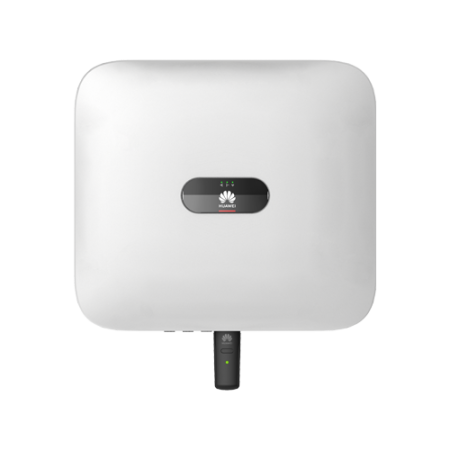 Efficient, safe and quiet, the Huawei SUN2000-5-6KTL-M0 makes for an upgraded solar experience.
Key benefits
Battery ready
This three-phase hybrid inverter is battery-ready with its plug & play integrated battery interface. The Huawei SUN2000-5-6KTL-M0 can easily be connected to a Huawei LUNA battery in the future, without extra devices or additional retrofit costs.
Enhanced performance
Thanks to its advanced digital control algorithm, the Huawei SUN2000-5-6KTL-M0 range can produce over 3000 kWh more than other brand inverters in the first 20 years. With a maximum efficiency of 98.4%, it converts more solar energy into power for your home.
Built-in PID recovery
The Huawei SUN2000-5-6KTL-M0's integrated PID recovery feature limits the modules' output loss by up to 70% in hot & humid weather, thus improving the system's performance.
Ultimate safety
The risk of DC arcing occurring in your solar PV system and posing a danger to your property is alleviated by Huawei's AI-powered Arc Fault Circuit Interrupter (AFCI). The SUN2000-5-6KTL-M0 inverter detects arc faults more accurately, avoiding false alarms, and automatically shuts down in 2 seconds.
Silent
Operating at only 29 dB (library noise level), Huawei SUN2000-5-6KTL-M0s are extremely quiet inverters.
Inverter Features
Maximum efficiency 98.4%
European efficiency 97.5%
Integrated battery interface
Product Warranty
10-year full comprehensive warranty (parts and labour)
Like-for-like replacement
Extendable up to 20 years
Model
SUN2000-(5KTL, 6KTL)-M0