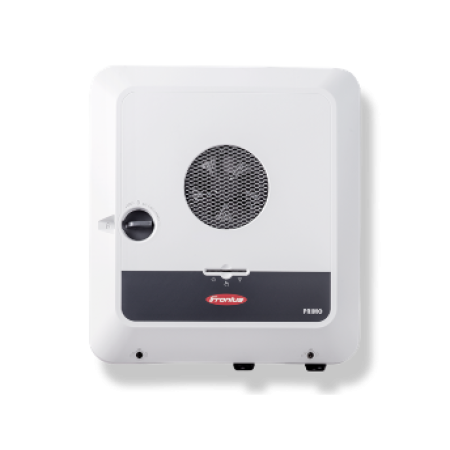 Inverter Features
Wi-Fi enabled
Optional Smart Meter for real-time in house consumption monitoring
Extendable warranty
Free access to the Fronius monitoring platform
Integrated backup point
Hybrid-ready
Active Cooling technology
PV point basic grid backup
Country of Manufacture
Austria
Product Warranty
10 Year Product Warranty
FSP+ Extended 10 Year Parts and Labor inverter Warranty
An amazing, backup capable inverter from Fronius
The Fronius Primo GEN24 is a fantastic choice for any residential installation, offering the very best in efficiency and affordability with the option to upgrade to be hybrid-capable down the line to add a battery to your home system. Coming in sizes from 3 kW to 6 kW it covers the energy needs of a great majority of homes.
The Fronius inverter provides energy management functions, WLAN connection and Ethernet connectivity, and is also capable of easy integration with third-party components, giving users total control of their power. It is also equipped with a PV point, allowing users to keep what matters most powered during a blackout, even without the addition of a battery. Once a battery is integrated to the system, it provides some of the greatest levels of power supply reliability possible. Reducing your reliance on the grid, shredding your power bills and allowing your home to stay up and running in the case of a blackout.
Perfect with Storage Systems
While backup functionality is certainly capable without a battery, the inverter only improves with the addition of a battery. By adding a battery, you're able to take full advantage of the GEN24 multi-flow technology which allows the inverter to supply larger loads while on backup than other systems would be capable of.
On top of this, the Fronius Primo GEN24 is uniquely easy to retrofit with a battery thanks to its unique design and ease of installation. More affordable than the Plus model for initial installation, the GEN24 only requires a small upgrade to become hybrid-capable, easily done as a battery is installed. With quick-release screws, push-in spring terminals a user-friendly setup wizard that works with any smartphone, and a straight-forward mounting system, maintenance, system retrofitting and installation couldn't be easier.
These features come together to make the Primo GEN24 the ideal inverter for future proofing your home, as solar energy storage systems become a more and more common and affordable part of PV systems. Even if you're not sure if you'll be installing an inverter right away, having a Primo GEN24 allows your system to adapt to whatever the future may bring.
Enjoy low upkeep costs and high returns
With its Active Cooling System's, the GEN24 enjoys greater flexibility in installation and design. Plus, combining the ACS with the variety of other efficiency and reliability focused features included in the Fronius Primo GEN24 grants users amazingly low maintenance costs, made even better by the particularly high yields offered by the inverter. These low costs compared to high yields result in greater savings even when compared to other, similar inverters.
The inverter also eliminates many additional costs associated with the installation of PV systems, as it eliminates extraneous devices and accessories, including everything you need to enjoy your solar all in one package. Features such as the backup capabilities mentioned earlier, along with systems such as the energy analysis tools, the active cooling technologies, access to the Solar.Web for monitoring your system, Dynamic Peak Management and a Superflex design make this one of the very best solar inverters available today.
Enquire about the Fronius Primo GEN24