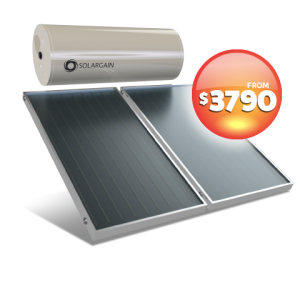 This offer includes:
300 litre roof-mounted tank & large high performance twin panel perfectly suited to family sized households.
Installed and designed by Australian plumbers for Australian conditions.
Use the sun's unlimited FREE energy to provide up to 80% of your hot water heating needs.
Solargain's roof mount solar hot water heaters are traditional close-coupled thermosiphon systems, combining roof mounted solar collectors and storage tanks, which are ideal for applications that are short of available ground space.
Solar powered roof mount systems are highly efficient and use natural thermal convection to circulate hot water from the collectors to the tank without the need for electric pumps.
Roof-mounted tank & collectors. Thermosiphon system with natural convection circulation of hot water.
Huge federal government incentives still available!
Earn up to 5,000 Qantas Points.
Please enter your details in the form below
Special Terms and Conditions
For installation to be booked, quote needs to be accepted. Install can then be between 2-8 weeks of quote acceptance.
Price is when replacing solar hot water system for a solar hot water system. Subject to transfer of STCs / State & Fed Rebates to Solargain PV Pty Ltd. Price based on standard installation conditions for single storey dwellings for metro areas and is subject to change without notice. Conditions apply.
Visit this page to read the full Terms & Conditions regarding our partnership with Qantas Frequent Flyer and earning Qantas Points on this offer.
Offer only available in Hervey Bay Metro areas.