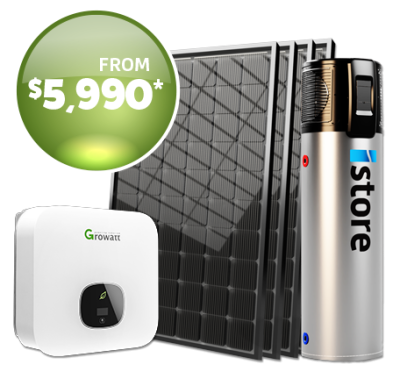 Drop your bills all year round!
Hot water accounts for 30% of a home's energy bills, but with the inclusion of an iStore in your solar energy system you can drop that number by as much as 70%. Now's the time to start saving!
More details about this offer…
This offer includes 20 x 330 JinkoSolar Cheetah Half-Cell panels.
Includes a Growatt 5tl-x inverter.
From 1st December, 2020 all Growatt inverters (except off-grid inverters) can apply for a free 10-year warranty.
Includes a 180 L iStore Hot Water system.
Earn up to 10,000 Qantas points.*
Offer only available in South West metro areas.
Special Offer Enquiry
Enter your details and we'll get right back to you
Special Terms and Conditions
This offer is available on a 6.6 kW solar photovoltaic system with a Growatt 5tl-x inverter, 20 x JinkoSolar Cheetah 330 W Half-cell Panels and a 180 L iStore hot water unit.
The eligibility of the offer is conditional upon the entire PV system being eligible for Small Technology Certificates (STCs) under the Small-scale Renewable Energy Scheme.
The offer is subject to connection approval for the PV system by your energy retailer and the assignment of STCs to Solargain PV Pty Ltd. There must be an approved RCD switch installed at the premises where the PV system is to be installed.
Growatt 10-year warranty is only applicable for Growatt inverters (except off-grid) which are installed from 01/12/2020 onwards. The registration of the extended warranty should be completed within 12 months from the date of delivery from Growatt factory. The customer or owner of the system is responsible for registration of the extended warranty offer. Full details can be found here.
The PV system purchased as part of this offer must be installed by Solargain.
Images are for illustration purposes only.
Offer not valid in conjunction with any other offer.
This offer is valid for a limited time, while stocks last and can be terminated at any time at Solargain's sole discretion.
Offer valid for new quotes only, and only available in South West metro areas for homes with single-phase power.
Supply and installation are subject to Solargain's Terms and Conditions of Trading, available on our website.
Any network application and meter replacement fees incurred by Solargain will be at an additional cost. These costs will be provided to you at the point of sale.
Pricing is based on single-phase, single-storey homes and a cash price purchase only. Additional charges may apply. Finance options available, and will be based on Full Recommended Retail price for the system.
Visit this page to read the full Terms & Conditions regarding our partnership with Qantas Frequent Flyer and earning Qantas Points on this offer.