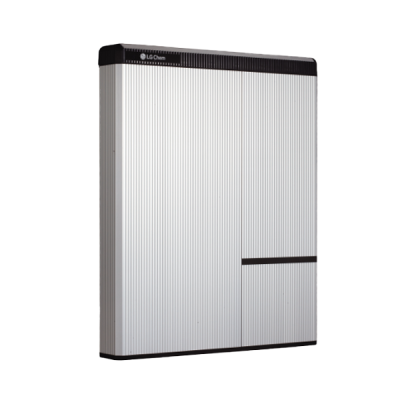 LG Chem has recently released a high-voltage (400 V) battery: the RESU10H. Convenient, high-performing and safe, the RESU high voltage battery is compatible with all the best inverter brands on the market.
Become electricity-independent
Charging your battery during off-peak times and discharging that energy from it when the day reaches peak times saves you money on your power bill by avoiding pulling from the grid when energy is at its most expensive.
The RESU also collects excess power produced by your PV system during the day so that you can use it at night when your solar panels are no longer generating electricity. This surplus energy also comes in handy in the event of a blackout, providing you with a bumper of back-up power to see you through it.
Features
Convenience: The RESU high voltage can be installed inside or outside, on a wall or the ground. LG Chem has simplified inverter connections to make the installation both shorter and more affordable.
Performance: With continuous power, DC round-trip efficiency, and greater durability than other batteries available on the market, the RESU high voltage is a high-end product, offering only the highest quality in solar energy storage.
Safety: RESU high voltage batteries possess the same record-setting safety technology as LG car batteries along with all relevant international standard certifications.
Compatible inverters
This battery has backup functionality on the SolarEdge StorEdge Backup range.

Battery Features
RESU high voltage batteries
RESU high voltage is a high-end product
safety-record technology as LG car batteries
International standard certification

Product Dimensions
W: 744mm; H: 907mm; D: 206mm