Terrible flooding is affecting much of the East Coast and our hearts go out to everyone currently impacted by the flood. We would like to assist by offering practical advice in relation to the safety of your solar PV system, for when the water subsides and you are able to return home.
Electrical systems of any sort and water do not mix, and solar PV systems are no different.
If there is any possibility that your switchboard, solar inverter, solar battery, accessories such as isolators, or in extreme cases, if your roof and PV array were submerged during the flooding then safety should be your greatest concern.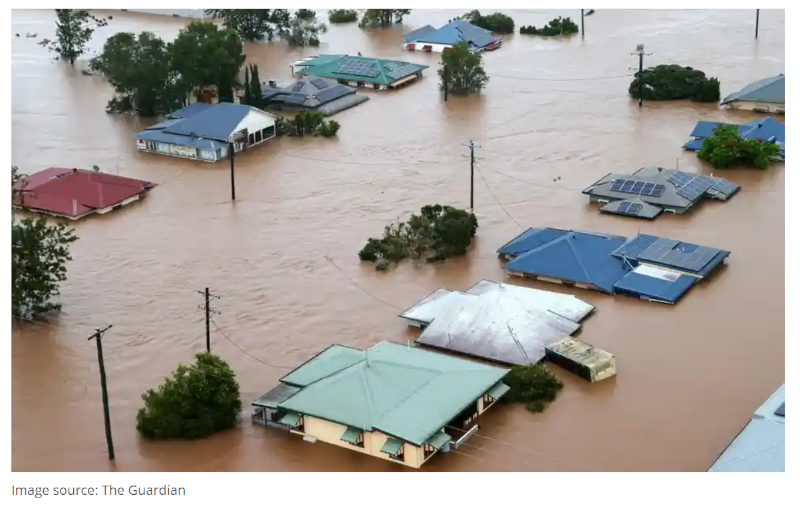 There are two sides to your home's power to consider, AC, coming from the grid, and DC, coming from your array.
AC Power
The AC side of your house, the power coming to your house from the grid, has inbuilt protection in your switchboard, and if moisture is present, your power will trip.
If you believe your switchboard was fully submerged, then you may need a Grade  2 electrician to restore power. Contact your insurance company and your power provider to seek advice on next steps.
DC Power
The DC side, coming from the array on your roof is where the greater danger lies. This is because as soon as your array is back in the sun, the modules/panels will be operational and generate power. If your isolators have been submerged, then there is a real potential for fire.
If it is safe to do so, please switch off the AC and DC isolators connected to your PV system.
If there is a possibility that your roof was submerged, then the DC isolator on the roof will also need to be switched off and assessed by a qualified electrician to make the array safe.
If you have power and the system looks dry and operational, we still don't recommend turning your system back on until it has been assessed for damage by a qualified electrician.
Warranty
Solar inverters are IP (Ingress Protection) rated for outdoor use, meaning that their warranty would cover typical outdoor weather conditions, but in the instance that the inverter has been submerged in water, the product warranty will be void.
Your first step for making a claim to your insurer would be to have a CEC qualified technician attend site to assess the damage and provide a report for your insurance company. This report will need to comment on the inverter, the array, battery (if applicable) and any accessories or electrical components, as the insurer may decide to replace the entire system subject to the damage report.
Solar modules are designed for outdoor use, however if the array was submerged, the modules will need to be assessed for damage from objects that may have hit the panels, causing micro cracks that may not be visible at the time, but will allow moisture into the system and cause it to fault. Conduit, wiring and electrical components may also need to be completely replaced and will require a thorough inspection.
If you are dealing with a situation like this and would like advice on how to proceed, our support team is available on 1300 73 93 55 and would be happy to do what they can to assist.
Helping where we can
To do our part, we're offering heavily discounted* site inspections to flood victims within our service area. See the list below for flood affected areas that are within our service area: 
QLD
Brisbane City Council
Logan City Council
Moreton Bay Regional Council
Redland City Council (excluding the islands)
NSW
Parramatta
Northern Beaches
Windsor
Richmond
Penrith
Bankstown
Milperra
Liverpool
Bondi
*Only available to residential customers within our service area.
Enter your details and we'll get right back to you