Inverter & Panel repairs and service - we repair all inverter & panel brands!
Solargain specialises in inverter repairs and we're ready to help you get back on the grid, whether you're a Solargain customer or not. When your solar power installer leaves you in the dark, you can rely on Solargain's Customer Service team and technicians to conduct your inverter repairs quickly and safely.

Always use companies with proven
safety and compliance certification
for your inverter repairs and servicing to ensure safety to your family and home. Don't risk using unqualified company's or trades persons with your electricity matters.

Solargain are the preferred service partner for major brands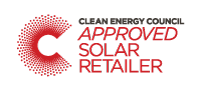 As the preferred service partner for major brands such as SMA, Fronius and Zeversolar, our reputation as a credited solar inverter repairs company is unmatched by our competitors. Our service technicians are fully qualified electricians and they are CEC Accredited Installers and Designers.
When you contact Solargain about a faulty solar power system, we'll take you through a number of easy steps to ensure that you get the best solution. In some cases, problem inverters only need a reboot and are not broken at all. In other cases, we may recommend inverter repair or a complete inverter replacement.
Every day you spend with a faulty panel or inverter costs you money. Contact Solargain today and continue to enjoy the benefits of solar power.
Please enter your service request in the form below
Solar inverters and panels we service
Solar PV inverters we service
Bosch inverter repairs
EnaSolar inverter repairs
Enphase inverter repairs
Huawei inverter repairs
Ingeteam inverter repairs
Invt inverter repairs
JFY inverter repairs
Kaco inverter repairs
KLNE inverter repairs
MOSO/B&B inverter repairs
NARI-TECH inverter repairs
NB Solar inverter repairs
Retravision inverter repairs
SAJ inverter repairs
Selectronics inverter repairs
SolarEdge inverter repairs
sunMAX inverter repairs
Sunny Roo inverter repairs
Solar panels we service
Canadian Solar panel repairs
CSUN panel repairs
GCL panel repairs
Hanover Solar panel repairs
JinkoSolar panel repairs
LG panel repairs
Q CELLS panel repairs
REC Solar panel repairs
ReneSola panel repairs
Schott panel repairs
SolarWorld panel repairs
sunMAX panel repairs
SunPower panel repairs