Special Image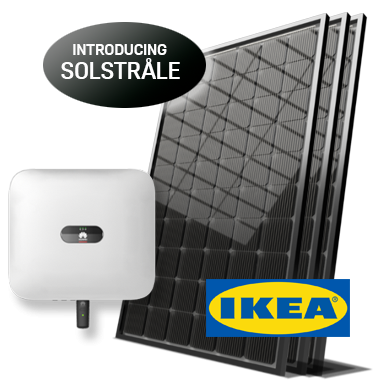 Special Body
What is SOLSTRÅLE ?
SOLSTRÅLE is an exclusive collaboration between Solargain and IKEA, offering a range of solar options that are backed by a unique performance guarantee, making your solar investment risk free!
Details about this offer:
Full installation by CEC Accredited installer
10 year product warranty on inverter
25-year product warranty on panels
30-year performance warranty on panels
Earn Qantas Frequent Flyer Points
Packages available from 2 to 20 kW
Choose from any of the packages below:
---
---
---
---
More Information
Interested in this offer? Enter your details and we'll get right back to you.
Special Terms and Conditions
This offer is valid for certain products agreed upon between IKEA and Solargain and are subject to stock availability and can be terminated at any time at Solargain's sole discretion.
Offer valid for new quotes only, for metro areas within a 50 km radius of IKEA stores (IKEA Adelaide, IKEA Canberra, IKEA Logan, IKEA Marsden Park, IKEA North Lakes, IKEA Perth, IKEA Rhodes, IKEA Richmond, IKEA Springvale, and IKEA Tempe). Additional charges may apply for homes located within a 50 and 100 km radius of their nearest IKEA store.
You must be a Qantas Frequent Flyer ("QFF") Member to earn and use Qantas Points.
Qantas Frequent Flyer Members will earn Qantas Points on eligible systems and eligible services.Qantas Frequent Flyer Members will earn Qantas Points on the following basis, provided they are sold directly through Retail Partners such as IKEA: 1,000 Qantas Points on Solar PV Systems, 1,000 Qantas Points on Battery and Energy Storage Systems; 1,000 Qantas Points on Solar Hot Water Systems.
In order to earn Qantas Points, Qantas Frequent Flyer Members must provide their Qantas Frequent Flyer number prior to the day of their installation or during the quotation process so that the membership number can be linked to the customer's account.
Visit this page to read the full Terms & Conditions regarding our partnership with Qantas Frequent Flyer and earning Qantas Points on this offer.
The eligibility of the offer is conditional upon the entire PV system being eligible for Small Technology Certificates (STCs) under the Small-scale Renewable Energy Scheme. There must be an approved RCD switch installed at the premises where the PV system is to be installed.
Images are for illustration purposes only.
Supply and installation are subject to Solargain's Terms and Conditions of Trading, available on our website.
Any network application and meter replacement fees incurred by Solargain will be at an additional cost. These costs will be provided to you at the point of sale.
The PV system purchased as part of this offer must be installed by Solargain.
Offer pricing subject to 2022 installation availability.