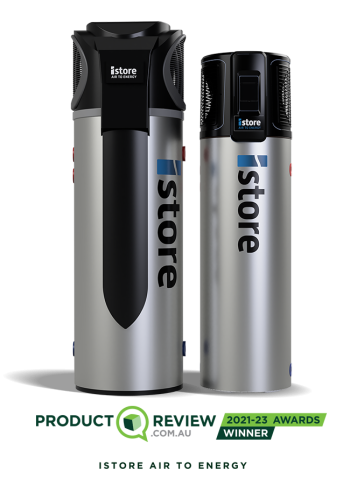 Product Features
Make the most of your solar power system
Reduce your electricity bills
Lower your carbon emissions
Increase your home's energy efficiency rating
Increase the value of your property
Access federal & state government incentives
Comprehensive 5-year warranty
Tank Capacity
180L & 270L
Product Suitability
Family
Temperature Pressure Relief Valve
Yes
Product Description
Find out why thousands of Australians have made the switch
iStore – AIR TO ENERGY technology drastically reduces your electricity costs, especially when combined with a solar PV system, helping you make the most of it. Utilising thermal energy, the iStore stores the excess solar energy generated by your solar panels and converts it into hot water for your home. 
Bundle and Save $200 when you buy any 6kW or more Solar Energy System and an iStore!
The iStore is one of the most efficient and affordable energy storage alternatives on the market. In fact, the iStore's dynamic, efficient system can reduce your water heating costs by up to 70%.
Benefits of the iStore
Make the most of your solar PV system
Receive STCs (Small-scale Technology Certificates)
Generate hot water energy all year round
Heating water for the home accounts for up to 25% of the total energy usage for the average Australian household. iStore is a cost-effective, reliable thermal storage solution which reduces water heating consumption by 2/3 and CO₂ emissions by 4 tonnes. Installing an iStore could save you up to $1,000 per year on your energy bills.*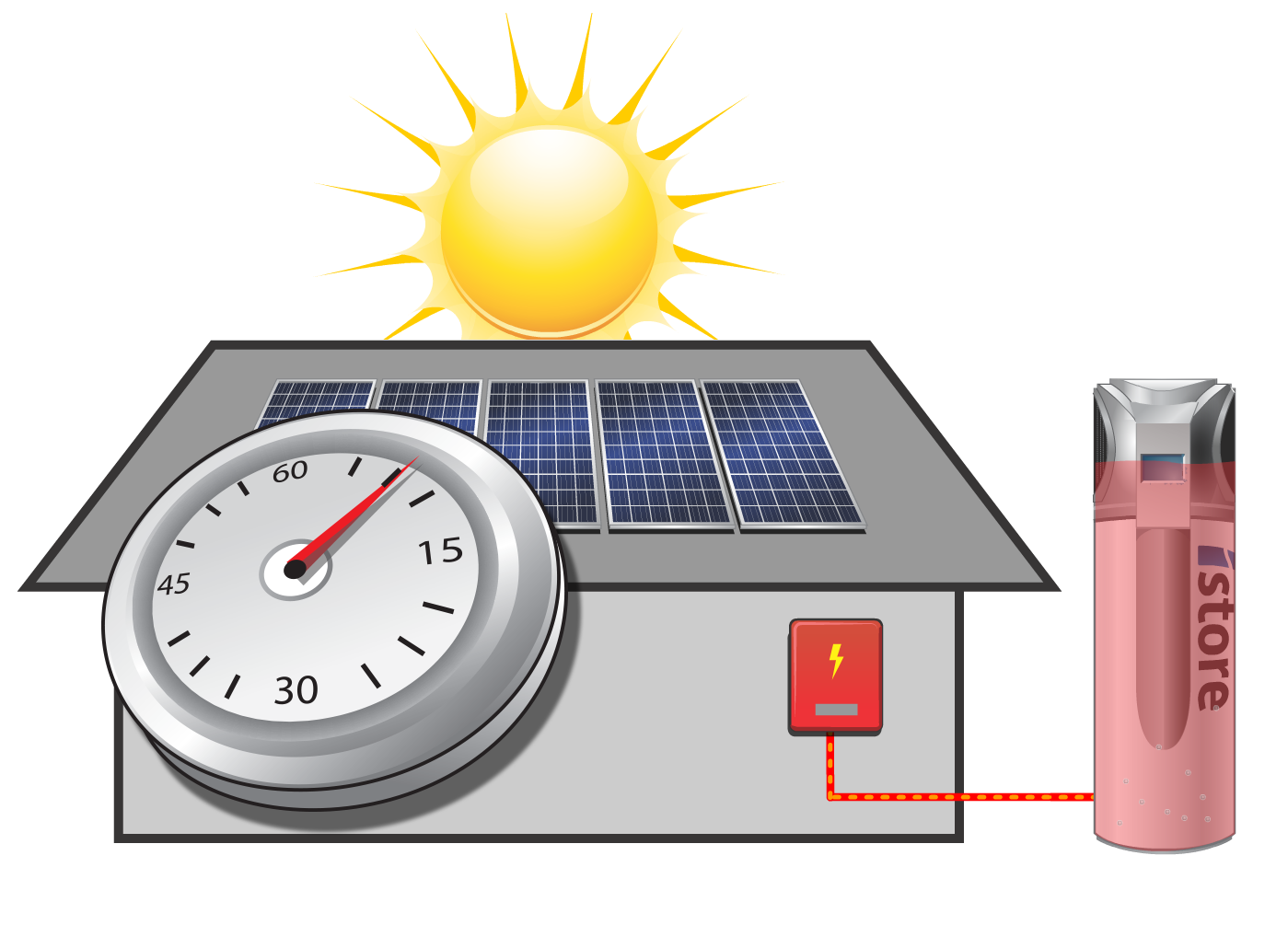 Heat Pump Technology
Heat pumps aren't new technology, they've been around for decades now and have been put to a variety of uses throughout the world, with refrigerators and air conditioners being some of the most common examples.
Heat pumps, at their most basic level, extract heat from one place and transfer it to another. This is the simplest possible explanation, but there's a lot more to it than that. Heat pumps transfer heat by circulating refrigerant through a constant cycle of condensation and evaporation. 
A compressor is used to pump the refrigerant through a pair of heat exchange coils, each of which is used in a different part of the cycle. In one, the refrigerant is evaporated at a low pressure, which causes it to absorb heat from its surroundings, it is then re-compressed on its way to the other coil, where it condenses at a high pressure. This process results in heat being brought in from the surroundings, then passed on through from the coils into the water tank they wrap around (in the case of water heat pumps).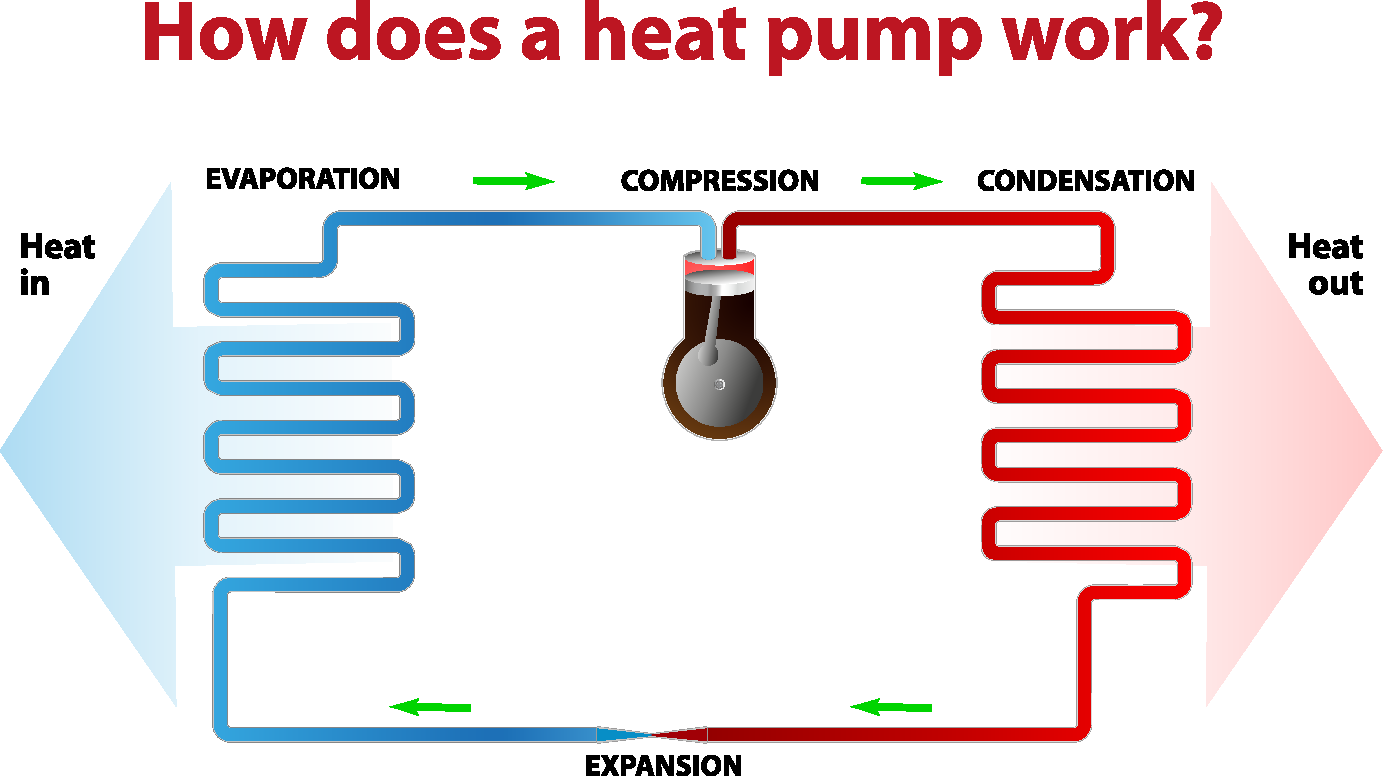 Built-in Smart Timer
Maximise the full potential of the iStore by syncing it with a solar power system. The easy-to-use, built-in smart timer will offset any excess power to the iStore, saving you even more.
Comparison Chart
Running Costs p/a based on 200L per day consumption*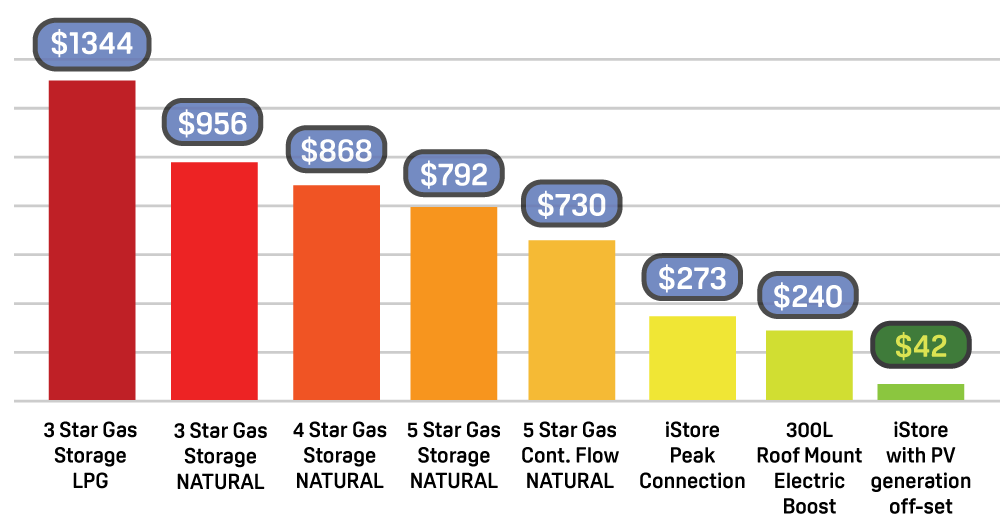 * Savings are based upon the running costs of an electric storage or 3-star gas storage hot water systems for a family of 4 consuming 200 litres per day for one year when compared to an iStore 270L with PV solar contribution. Tariffs based on WA pricing, $0.25 per kWh for electricity, Natural Gas price of $0.0351 c/MJ & LPG price of 1.25 $/L. Actual savings may vary on household usage, solar power system and climate conditions.
 
Enquire about the iStore System