Solargain is one of Australia's leading solar energy providers with offices and warehouses in most states and capitals. With over 18 years of experience, we're regarded as one of the best structured and integrated solar power and solar hot water companies within the industry. Solargain has expanded to become the largest and most trusted solar service company in Australia.
Who we are
Solargain is a premium supplier of solar products. We are a highly experienced team, with over 190 staff members nationally.
What we've achieved
Solargain has been around for 18 years, and has been doing solar PV since the first systems were installed in Australia. We've installed over 85,000+ solar power and hot water systems nationally as a group and are one of the only solar PV companies who have been around for every policy change, every boom and every fall. We're very proud of this, as it's proof of our commitment, reward for our customers and something very few organisations have achieved.
Our promise
Solar PV is a long term investment, and we truly understand this. We promise to provide the highest quality components, advice from the most experienced consultants and the best on going support in the industry.
Vision statement
To be the brand of choice for sustainable energy solutions
Mission statement
Solargain invests in the lives of others, leading the way towards a sustainable energy future
Why Choose Solargain?
With over 18 years of experience, we've established a reputation as one of the most reliable and long-standing solar power and solar hot water companies in the industry. We use an integrative approach to understand your individual needs and identify ways to improve your home's energy efficiency.
A history of Solargain
Solargain originally started out as a small, one man plumbing business, way back in 1995. From here, our founder spent many years doing hot water installations around Perth and became a cult figure in the industry. The operation continued to grow until 2005, when two more old friends came on board, joining the founder and transitioning the one-man operation into the business now known as Solargain. While a young company at the time, the solar experience was vast. The founders brought together 28 years of combined experience in solar, which enabled them to lay the solid foundation of a successful solar business for many years to come.
Solargain withstood rapid early growth, with four stores open across Western Australia by 2006. The business invested in machinery and hired many new staff to ensure that the business was professional and met the highest standards. At the time, the now Director stated that he believed the solar market would continue to grow, and that he wanted to run a smart business that didn't cut corners. This philosophy has been a cornerstone of the business and one of the reasons it has become the company it is today.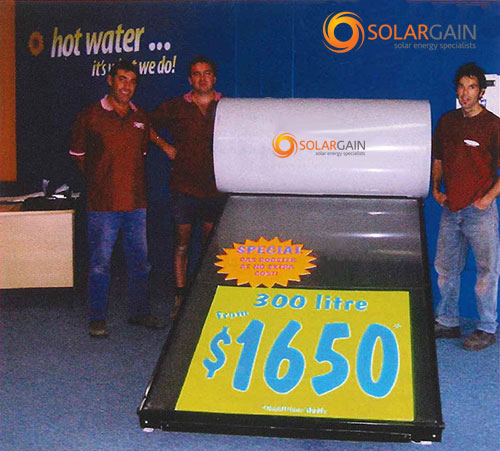 After installing many hot water systems, the founders noticed solar PV modules becoming available. Despite it being 2008 and there being very few people who had even heard of solar power, the founders decided it was a perfect fit for Solargain. Sure enough, solar power began to flourish. Now, Solargain has installed over 85,000 quality systems across Australia. In 2009, the company was officially branched into two sections, one for solar hot water (Solargain Pty Ltd) and another for solar PV (Solargain PV Pty Ltd). Solargain PV, just like the hot water division before it, grew rapidly and elevated the company to the national status it has today. Despite the increased volume, Solargain was determined to earn a reputation as a high quality provider. In 2012, the company became ISO 9001 certified, demonstrating this clear commitment to quality.
Servicing solar customers is a priority for Solargain, and we've managed to become the nation's largest solar service centre for both solar power and hot water. High turnover of solar companies provided an opportunity for a solar service department, which has enabled us to help even more customers. Solargain's service teams service well over 100 systems nationally every week. Many solar manufacturers depend on experience, reach and technical expertise, which is why so many of them choose Solargain as their service partner.
In 2012, Solargain successfully launched its own range of Solar Hot Water systems, manufactured specifically for Australian conditions. This was a goal of the company from the beginning. Combining all the knowledge and technical expertise, Solargain was able to design, manufacture and have certified a whole suite of products for the hot water industry.
Commercial solar was another obvious choice for Solargain. To make a difference in the commercial sector, Solargain went to extreme lengths to ensure unmatched in-house technical expertise. With highly experienced engineers based at all our major locations, Solargain has the ability to deliver large-scale commercial and off-grid installations all across Australia. Solargain offers finance and leasing options for businesses, and can make their solar investment cash flow neutral. These are just some of the reasons Solargain has been in the top three commercial solar power providers for the last three years and boasts one of the largest commercial portfolios in the country.
The future looks bright for Solargain. Our relationships with key manufacturers have enabled us to provide high quality products for many years. Having such a healthy relationship with these key manufacturers also enables us to provide the renewable energy products of the future. Australia provides us with an excellent customer base, with many people approaching us every day to help them embrace renewable energy. We're proud of our history and realise our brand name and reputation is the result of over 170 dedicated staff members nationally, all committed to the one goal of becoming the brand of choice for sustainable energy solutions.
If you are looking for solar from one of the best in the industry, then look no further.