The guide below is designed to assist you in connecting your inverter to your home's WiFi network so that you can access monitoring features, it is applicable to all WiFi enabled Huawei inverters.
1. Begin by downloading the FusionHome app, this app is separate from FusionSolar and NetEco and can be downloaded from the Google Play or Apple App stores. For all steps to come you will need access to your inverter and a WiFi enabled device (such as a smartphone or tablet) with the FusionHome app installed.
2. If your system has a QR code at the bottom of the label, try scanning this with the FusionHome app. This is often the easiest way to connect your Huawei inverter to your network. If this does not work, or your inverter does not have a QR code, proceed with the steps below.
3. Open the FusionHome app on your smartphone and select the WiFi option in the top left hand corner. From here select 'System Settings' and then 'WLAN Inverter' at the top of the page. An image of your inverter will appear, select it and you will be taken to the 'Identity Authentication' page. Select 'Installer' from the account dropdown menu and input the password '00000a' then click verify. 
4.  Now go to the 'Communication Configuration' tab and from there 'Router Connection Settngs' then enable the 'Connect to a Wireless Router' function.
5. Press the WLAN arrow and you will be able to see a list of all available networks, select your home network and insert your password as if you would when connecting with any other device.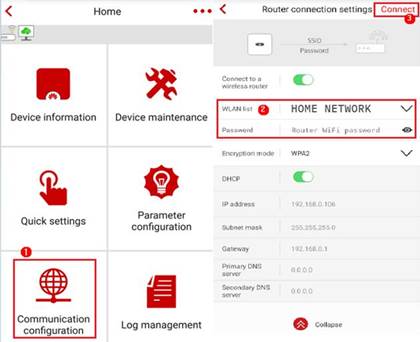 6. Now, ensure that the DHCP option is enabled and that the domain name is sg5.fusionsolar.huawei.com
 
7. Check the internet status, shown on the top left hand corner of the page, above 'Device Information.' Information.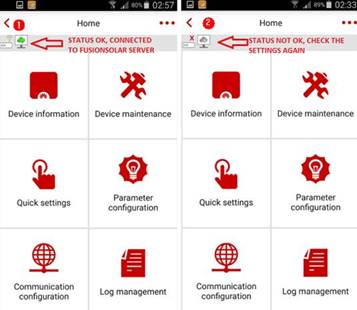 8. Open your NetEco or FusionSolar app or your monitoring portal on your computer and verify that your system is now available to display.!
 
If the above steps have not worked, you can attempt the following, then go back through the above steps.
 
Turn off the inverter's AC isolator
Turn off the inverter's DC isolator
Turn off WiFi modem for 10-20 seconds and then turn it back on
Turn on the inverter's DC isolator
Turn on the inverter's AC isolator
Let it be for 15 minutes