When weighing up solar power systems for his home, it all came down to reliability, diverse features and the option of a back-up battery for local Helena Valley resident Peter M, who spent six months researching solar and an extra six months researching battery back-up systems for his home.
Peter chose a 5.2kW array with a Fronius Symo Hybrid inverter which offered the flexibility of adding a battery for when they became available.
He also added a smart meter which allowed him to monitor his power consumption to make an informed decision on battery size. It also continues to monitor his system in real-time.
Solar Web Real-Time Monitoring
"As a technical nerd, I did a lot of homework on which inverter and battery solution to buy. The Fronius 5kW Symo hybrid inverter was the winner. It offered a long warranty from a long lived company,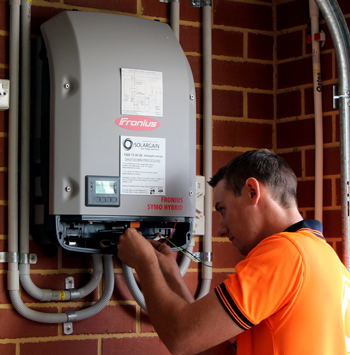 offline ability, upgradeable firmware, exportable data and graph-able statistics from at home or overseas via web on PC or phone," Peter said.
Next, he had to find a high quality, local installer that he trusted, that knew the products inside out and could answer all of his technical questions.
"After speaking to almost a dozen installers, Solargain won hands down. No question was too hard or skipped, experts were summoned when needed, no lies told, no hard sell," said Peter.
Once his solar power system was installed, Peter started investigating battery packs. He was invited to attend a battery seminar by Jeremy of Solargain, where he was introduced to the Fronius LiFePO4 Battery System.
"After the seminar I spoke to Karl from Solargain who helped me do the math on why the Fronius system was great value for money in the long run. I went away and did the sums.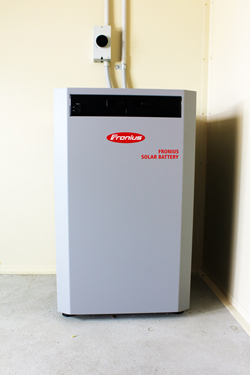 After taking into account the depth of discharge, cycles, cells and build quality I could see it was the one of the best value for money batteries on the market," Peter said.
"The final clincher," he added, "was the fact the Fronius batteries could output much higher peak current than the other batteries and are less likely to trip."
Satisfied with his research, and after fitting a foam insulated wall, Peter had the specialist installers from Solargain add the Fronius battery to his existing system. The installation itself ran very smoothly and Peter was extremely happy with the service Solargain delivered.
"The pre and post support has been amazing and the team are to be highly commended. Experts through and through," he said.
The friendly and experienced team from Solargain gave Peter the advice and support he needed from start to finish.
If you'd like help deciding whether a Fronius system would work in your home, or you are considering battery back up and want some information from our experts, simply contact us to speak with someone today or call 1300 73 93 55.