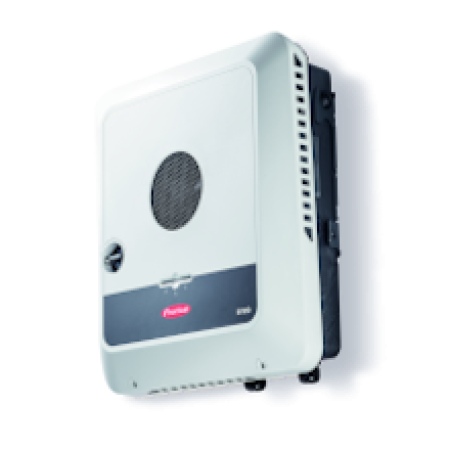 Inverter Features
Wi-Fi enabled
Optional Smart Meter for real-time in house consumption monitoring
Extendable warranty
Free access to Solarweb online portal
Integrated back-up power point
Multi-flow technology when integrated with a battery
Active Cooling technology
Country of Manufacture
Austria
A powerful, flexible inverter
The Fronius Symo GEN24 Plus offers not only fantastic efficiency in yield generation, it also offers some of the greatest backup capabilities seen in a hybrid inverter to date. With an integrated back-up power point. This means that even without a battery built into your system, should there be a power outage the Fronius Symo GEN24 Plus is still capable of supporting a 3 kW load, allowing you to keep whatever matters most online.
Plus, since Solargain is a Fronius Solutions Partner Plus (FSP+) our Fronius products are eligible for an extended 10-year comprehensive (parts & labour) inverter warranty.
Perfect with Storage Systems
Though the Fronius Symo GEN24 Plus does not need a battery to provide back up capability, it only gets better when one is included. By adding a battery whether you do so when the system is installed or later down the track (which is very easy to do, because retrofitting a battery to a Fronius Symo GEN24 Plus is uniquely simple), you gain the ability to make full use of the Hybrid inverter's multi-flow technology, which allows it to supply even 3-phase loads, such as heat pumps and electric cookers if your system has sufficient energy.
One of the reasons it's so easy to retrofit a Fronius Symo GEN24 Plus system with a battery down the track is it's ease of installation. The system was designed with quick-release screws, push-in spring terminals, a user-friendly setup wizard that can be used on any smartphone or tablet, an open interface that makes it easy to integrate third-party components and a straightforward wall-mounting system, all of this comes together to make for not only an extremely easy installation, but equally easy maintenance and retrofitting.
With the system's Active Cooling systems, the Fronius Symo GEN24 Plus offers greater flexibility in terms of design and installation right away from the point of system planning. Those who install this fantastic inverter will enjoy low-maintenance costs and particularly high yield quantities thanks to the active cooling systems.
With the number of additional features included, the Fronius Symo GEN24 Plus eliminates many costs associated the installation of a complete PV system as it comes with everything you could need. Features such as the back-up power capabilities already mentioned, as well as system and energy analysis tools, integrated Dynamic Peak Management, active cooling technology, access to the Solar.Web, energy management functions and Superflex Design. The Fronius Symo GEN24 Plus really is as good as it gets.