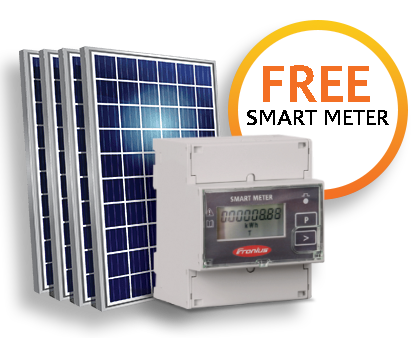 An exclusive Fremantle Dockers member offer you can't miss from Solargain!
Thinking of going solar? Purchase any 5kW (or more) solar PV system + receive a FREE Fronius Smart Meter!
There's no better time than right now to install solar for your home, which is why as a Fremantle Football Club member, we're pleased to offer you a free Fronius Smart Meter when you purchase a 5kW (or more) solar PV system. Simply contact us and mention your Freo membership number to claim!
What's a Fronius Smart Meter?
For such a sophisticated piece of technology, it's actually pretty simple.
Your Fronius inverter records and collects information on how much energy you produce, use and send back to the grid.
That information is sent to Fronius' online monitoring platform, Solar.web.
You can then access that information via your desktop or smart phone, building an energy profile you can use to track, monitor and manage your energy use over time.
Even better, getting started is easy: all you need is a strong Wi-Fi signal where your inverter is positioned (or an Ethernet connection to your inverter), and some excess space in your switchboard.
Enter your details below to claim this offer
Terms & Conditions
This exclusive solar PV deal is subject to the following terms and conditions:
Offer valid only with a minimum system purchase of 5kW or more
Available exclusively for solar PV installations in Perth, Western Australia for Fremantle Football Club members
Free Fronius smart meter is available for eligible homes with either single or three phase power
To claim this offer, you must reference your Fremantle Football Club membership number
Receive an obligation-free site assessment with NO deposit required
Offer available for a limited time only. Expires at the end of January 2019.
This offer cannot be used in conjunction with other offers, promotions or deals