At Solargain, we aim to provide the highest level of service to our customers and internal quality controls to ensure that all our products and services are delivered with the highest standard. To further our commitment to our customers, Solargain has had its Quality Management System certified against the international quality standard ISO 9001:2015.
ISO 9001:2015 & ISO 45001:2018 certification
Solargain is ISO 9001 certified for Quality Management Systems and AS/NZS 45001:2018 certified for Occupational Health & Safety at our head office location in Malaga, Perth.
What is the ISO 9001:2015 certification?
ISO 9001 is an international standard that lays out specific requirements for an organisation's Quality Management Systems (QMS). Attaining this certification is a mark of quality for the organisation that stands to show its ability to consistently provide both products and services at the level expected by both its customers and regulatory requirements.
The certification was originally published way back in 1987 by the International Organisation for Standardisation (ISO), which is an international agency that is composed of various national standards bodies from over 160 countries. The current version was released in September 2015.
Our investment and commitment to workplace health & safety (WHS) is also a key focus for Solargain and, as such, our safety management system has also obtained certification against the safety standard ISO:45001:2018 certification.
What is the ISO 45001:2018 certification?
The ISO 45001:2018 certification for Occupational Health and Safety Management Systems is the world's first international standard that deals with health and safety at work. It provides a single, clear framework for organisations that wish to improve OH&S performance. This certification is directed at the top management levels of an organisation, it aims to provide both a safe and healthy workplace for anyone entering the organisation, from employees to visitors.
To achieve this, it is imperative that all factors that could result in illness or injury are controlled and adverse effects on the physical and mental condition of a person are mitigated. ISO 45001 covers all of these aspects of safety management.
To attain and maintain these certifications, our business undertakes a vigorous program ensuring the ongoing quality and improvement of our management systems. A review is undertaken by regular internal audits and external audits conducted by a third-party accredited auditor for JAS-ANZ.
Below, you can find our certificates (ISO 9001:2015 & AS/NZS 45001:2018)
 
Solargain Quality Certification Certificates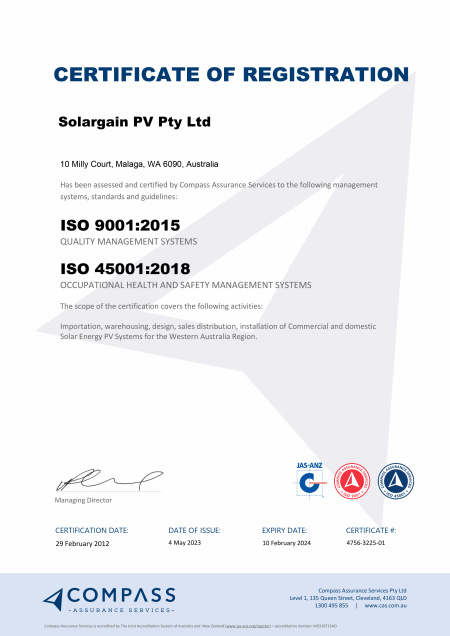 Have your solar installed by a certified specialist
We at Solargain are proud to give you the best installation from design, all the way to top installation componentry. Enquire here for the best install in town!