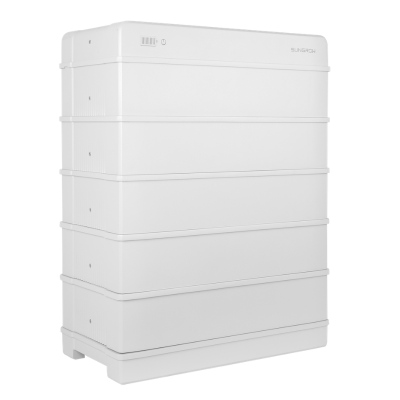 Battery Features
100% Usable Energy
Up to 100+ kWh capacity
Floor mounted
Battery Backup Power for emergency backup power to essential circuits during a blackout
Product Dimensions
625mm x 330mm x 545mm
Up to 625 mm x 330mm x 1195mm
Use. Capacity
9.6kWh - 25.6kWh
Chemistry
Lithium Iron Phosphate
Country of Manufacture
China
The Sungrow SBR battery is a rechargeable, scalable solar energy storage solution, able to set up for capacities anywhere between 9.6kWh to 25.6kWh, giving you the power to take control of your home's energy usage. The SBR battery saves you money by shifting solar energy to when and where it is needed, saving it for times such as peak tariff periods.
Each battery unit is easily connected to the system with a plug and play, wireless connection design, allowing for easy addition of more units as your home's energy needs increase.
The Innovative and Reliable Sungrow SBR Battery
Floor mounted, the Sungrow SBR battery is a highly reliable and robust energy storage solution. It offers an astonishing 100% usable energy, giving you the very best in energy storage. With access to the an app or web based monitoring portal you can take control of your solar energy wherever you are. The SBR battery is even capable of supplying backup power for essential loads, should a situation such as a grid interruption or power outage occur. This makes it the perfect option for those who want their homes to be ready for anything.
You can be confident with a Sungrow battery installed thanks to their multi-stage protection design & authorised safety certifications. Should anything ever go wrong, Sungrow have comprehensive local support available to Australian homeowners, so you can rest easy knowing they'll have your back throughout the warranted lifespan of your battery system.
Enquire about the Sungrow SBR battery