Recent changes in regulation have caused many solar installations to undergo grid voltage issues. After a tricky period during which we have had to go back to some installations a few times to fine-tune, network operators have been very pro-active in fixing the voltage issues that were causing the problems, and the worst is now comfortably behind us.
High grid voltages make for inverter outages
When you are producing more power than you are using, your inverter needs to send some power back to the grid. In order for a solar inverter to return power to the grid, it must put out a higher voltage than the grid to force it back.
This has never been an issue because the inverter voltage could always increase if the grid voltage was high. However, since changes to AS 4777.2 became effective on 9 October 2016, inverters have been limited to a 255V output. Thus, if the grid voltage is already high, your inverter is no longer able to overcome it and, instead, shuts itself off.
Nationally, this has not been much of a problem, but in Western Australia, it has been a greater issue due to the high grid voltage in some residential areas.
Putting new settings into your inverter
Despite the confusion this situation has caused, it has allowed us to develop viable solutions and processes which are now well in place and working. Premium inverters like the Fronius have enabled us to customise settings perfectly to suit these conditions. Our ability to amend the inverter settings is different in each state and dependent on your inverter model.
Ramping
One term you may hear is "ramping". Ramping refers to the inverters ability to reduce its output marginally during times of high grid voltage. As mentioned, to push power back the inverter will add some voltage so whatever your incoming voltage is, if you have solar it will add up to 2% volt rise. The settings on your inverter are required by Australian standards to ensure grid quality and safety. As such when your inverter begins to approach these voltage limits it will ramp down to ensure shutdown is avoided. This will minimally affect your yield, in most instances by less the 3% over the course of a year. However not all inverters have the ability to ramp and in this instance if your inverter reaches the voltage limits it will disconnect and only reconnect when the grid has reduced to 253V.
Case Study
One case study that we can share comes from an installation in Perth. The below graph illustrates what is occurring during the day with high voltage. In this case, if power is going back to the grid (requiring a higher voltage), the production has been reduced slightly to bring the output voltage within limits.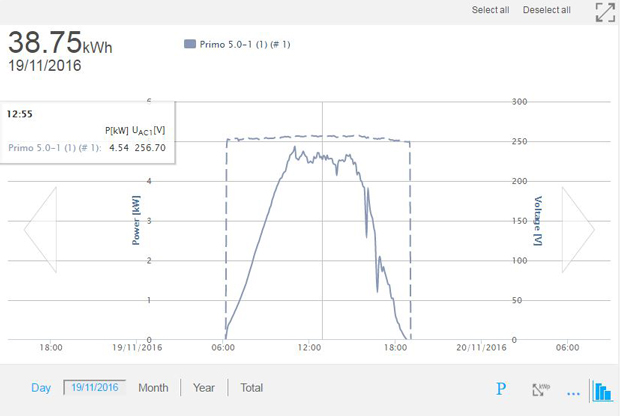 This is excellent management from the Fronius inverter and, in most cases, impossible with other inverters. Furthermore, we were able to share this data with the network provider to illustrate what was happening and Western Power's response has been excellent, acknowledging the issue to the customer and commencing the process of rectifying it.
Taking the matter up with your network operator
Unfortunately, not all inverters offer the same degree of control as Fronius, so we can't always manage this as well. That being said, most premium inverter brands do offer some form of control over these settings.
Whether your voltage issue is resolved or not, we strongly advise you to take the matter up with the network provider in order to avoid any future problems. You will need to provide evidence – such as pictures from your inverter monitoring portal – that the grid voltage exceeds 255V, which is the maximum your inverter is allowed to put out. Although we are not allowed to contact network operators on your behalf, we can help you collect the required information.
For assistance, please contact Solargain.