Four years. Only four years have passed since we made the original edition of this article in 2016, but it feels like decades. 
Not only in the realm of solar power, the world has experienced massive changes in the last short few years that make 2016 seem like ancient history. But that's not to say solar hasn't also seen some drastic shifts, thankfully, all in the right direction. The statistics we have now make our bold claims in 2016 seem paltry in comparison. Check out the infographic below to see what we mean.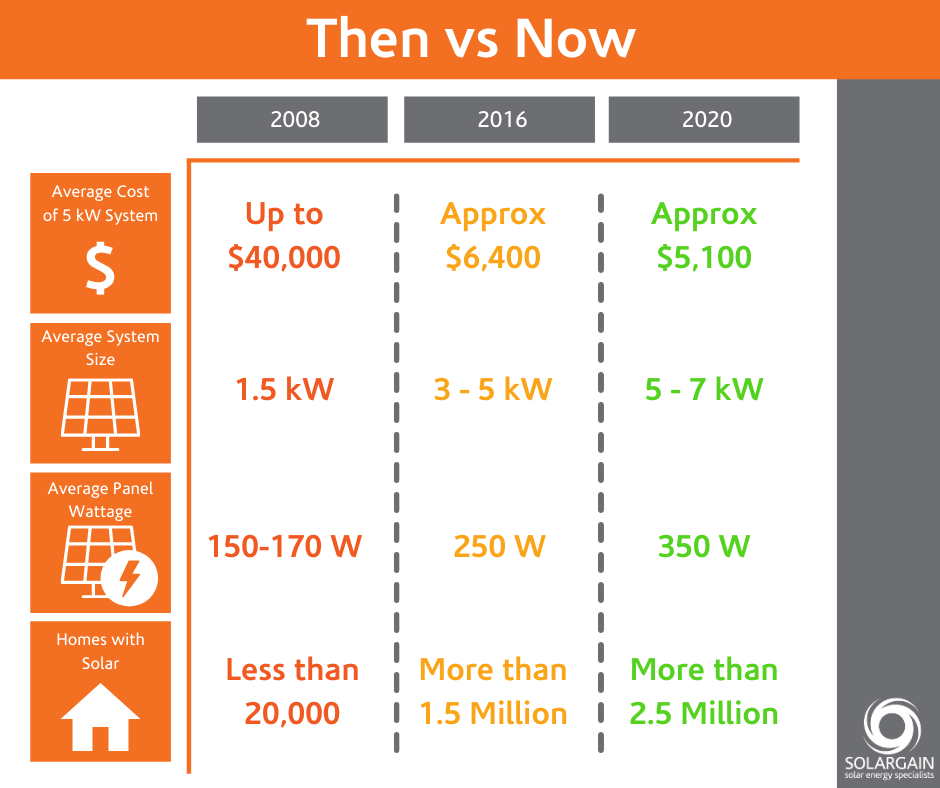 As you can see, though the advancements from 2008 to 2016 were great, every aspect of solar has only continued to improve as time has gone on, with residential solar continuing to become more powerful, and more affordable. Not to mention the upsurge of solar energy storage systems such as the Tesla Powerwall entering centrestage for consideration in recent times.
Nowadays, Australian solar is some of the fastest growing in the world. In fact, residential solar has grown so quickly in Australia that, at times, our grids struggle to keep up with it. Despite this, solar's showing no sign of slowing down.
Solar has officially become more affordable in many regions of the world, Australia included, than more traditional forms of power generation. This is creating an incredibly exciting shift in the global outlook towards solar. More and more investors are moving away from coal and gas, and shifting their money towards large-scale solar installations. 
The solar installation created by Tesla in the Hawaiian island of Kauai, which comprises over 55,000 solar panels and 272 Tesla batteries, is capable of providing 52 MWh of electricity to the grid every evening and, at mid-day, produces upwards of 90 percent of the island's energy needs.
This astonishing installation, which covers a space half the size of the Vatican, is a sign of things to come, with floating installations becoming more common, and the price and efficiency of panels and inverters continuing to improve. 
In 2016, installations like this would be considered the wild imaginings of industry hopefuls; now, there are more and more on the horizon all around the world. 
Solar energy systems are endlessly improving, with batteries becoming an increasingly practical option, and systems becoming cheaper and cheaper. How the world sees solar energy has also undergone a drastic shift in the last four years. 
With a growing number of people embracing solar, both on a residential level and at the massive scale of the solar plants we're seeing now, we've never been more excited to be a part of this fantastic industry, and to be right there with our clients, helping them strive towards a sunny tomorrow.
Here's to the future!