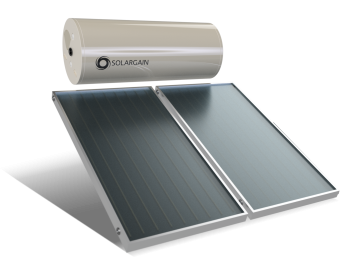 Product Features
Ideal for small roof spaces
All copper collector with black chrome selective surface
Collector and storage tank manufactured to AS/NZS 2712
International quality standards
Suitable for small to medium households
Nation-wide sales and service networks
Product Suitability
5 People
Product Warranty
5 years parts and labour on tank and collector
1 year parts and labour all other components
Sacrificial Anode Installed
Yes
Temperature Pressure Relief Valve
Yes
Product Description
Improve the energy rating of your home and SAVE! Use the sun's unlimited FREE energy to provide up to 80% of your hot water heating needs.
Solargain's roof mount solar hot water heaters are traditional close-coupled thermosiphon systems, combining roof mounted solar collectors and storage tanks, which are ideal for applications that are short of available ground space. Roof mount systems are highly efficient and use natural thermal convection to circulate hot water from the collectors to the tank without the need for electric pumps.
Roof-mounted tank & collectors. Thermosiphon system with natural convection circulation of hot water. 300 Litre roof-mounted tank & large high performance single panel perfectly suited to smaller households or those with limited roof space. Eligible for huge federal government incentives and designed by Australian plumbers for Australian conditions.
Why choose Solargain hot water heaters
Reduces water heating costs by up to 90%
Engineered by plumbers for Australia
AS/NZ ISO 9001:2008 quality standards
Nation-wide sales and service networks
Solargain's roof mount systems utilise 1 or 2 panel configurations depending on hot water requirements: Single panel suited for small to medium hot water demand. The ideal size for areas exposed to high solar contribution or low hot water demand. Greater flexibility with tight roof spaces as collector can be mounted horizontal or landscape. Double panel suited for medium to high hot water demand. Smarter Electric Booster Electric boosted models feature an in-tank heating element that activates only when the stored water temperature drops below a set temperature minimising your energy costs to heat your water.
Water tanks built for Australian conditions
Roof mount systems feature world class Solargain's water storage tanks in a 300 litre capacity. Solargain tanks have evolved from decades of design refinement and feature high quality construction, insulation and coating for a long service life in Australia's harsh conditions. Solargain's roof mount open loop range offers maximum performance and solar contribution via direct heat transfer.
This is a great value product! With thousands of these systems installed right across Australia, you are in good hands with Solargain after sales service.
Enquire about this great product now.