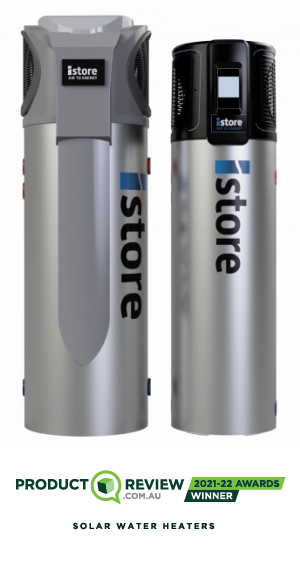 Battery Features
Make the most of your solar power system
Enjoy free hot water all year round
Reduce your electricity bills
Country of Manufacture
China
Product Warranty
5 Year Cylinder
2 Year Refrigeration
The iStore - Air to Energy System is one of the most efficient and affordable storage solutions on the market. It utilises thermal energy to store the excess energy produced by your solar panels and transforms it into hot water for you to use when you need it. iStore offer both a 180 L and 270 L model, adapting their storage to whatever the needs of your home may be.
Solar without the panels, the iStore's dynamic efficiency can reduce your hot water heating costs by up to 70%, utilising intelligent technology which converts air into hot water via the transfer of thermal energy.
Make the most of your solar PV system
Most cost-effective energy storage solution on the market
Receive STCs (Small-scale Technology Certificates)
Generate hot water energy all year round
Place your trust in Product Review solar water heater of the year two years running!
Key Benefits
Heating water for the home accounts for up to 25% of the total energy usage for the average Australian household. iStore is a cost-effective, reliable thermal storage solution which reduces water heating consumption by 2/3 and CO₂ emissions by 4 tonnes. Installing an iStore could save you up to $1,000 per year on your energy bills.*
​​​​Make the most of your solar power system
Enjoy free hot water all year round
Reduce your electricity bills
Lower your carbon emissions
Increase your home's energy efficiency rating
Increase the value of your property
Built in smart timer maximises the potential of your solar.
Access Federal Government rebates
Comparison Chart
Running Costs p/a based on 200L per day consumption*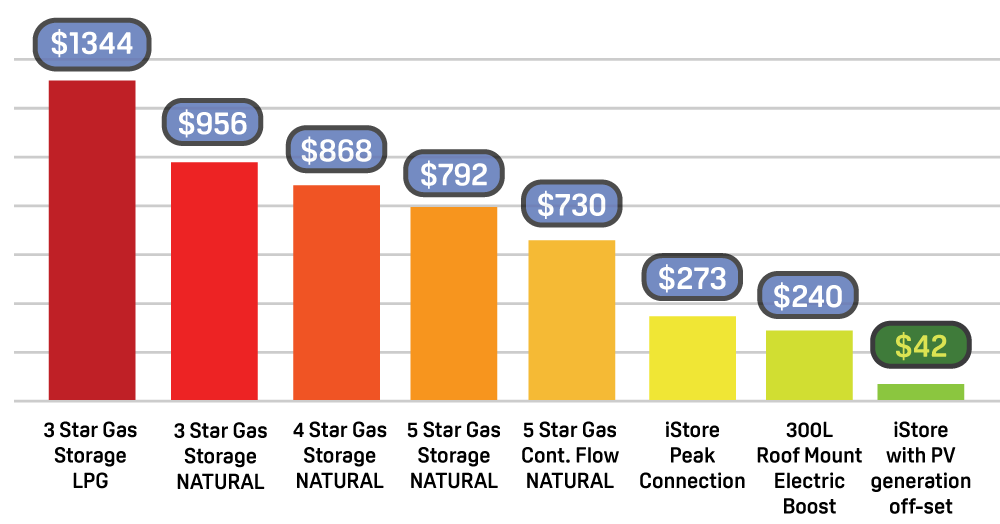 *Savings are based upon the running costs of an electric storage or 3-star gas storage hot water systems for a family of 4 consuming 200 litres per day for one year when compared to an iStore 270L with PV solar contribution.