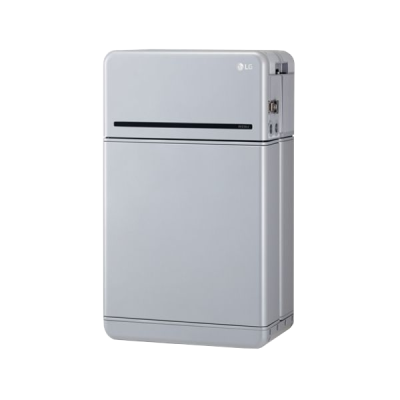 Battery Features
Renowned sfafety capabilities
App/web based monitor for full battery usage visibility
Easy control unit replacement
Full Home backup solution
Easy installation
Compact and long lasting battery
20% increase in energy density compared to previous generation
Automatic Firmware Update
Country of Manufacture
China
Part of the third generation of the LG CHEM RESU range, the 400V RESU10H prime follows in the footsteps of the fantastic batteries that came before and further iterates upon them to create one of the most effective battery units available in the world today. Designed to store energy during the day, whether from your solar energy system or from the off-peak grid, the system then returns it to your home when you need it. Providing on-demand energy, it's there to support you should the lights go out, or in keeping your electricity bills to a minimum by making better use of your solar energy system.
A perfect choice for any home looking to become more energy self-sufficient, and to make better use of their solar energy system, the LG CHEM RESU Prime 10H is a fantastic batter, that, thanks to it's new modular design can be easily expanded at a later date to a capacity of 19.2 kWh with the addition of another battery unit into the battery system.
Features
Convenience: The RESU high voltage can be installed inside or outside, on a wall or the ground. LG Chem has simplified inverter connections to make the installation both shorter and more affordable.
Performance: With continuous power, DC round-trip efficiency, and greater durability than other batteries available on the market, the RESU high voltage is a high-end product, offering only the highest quality in solar energy storage.
Safety: RESU high voltage batteries possess the same record-setting safety technology as LG car batteries along with all relevant international standard certifications.