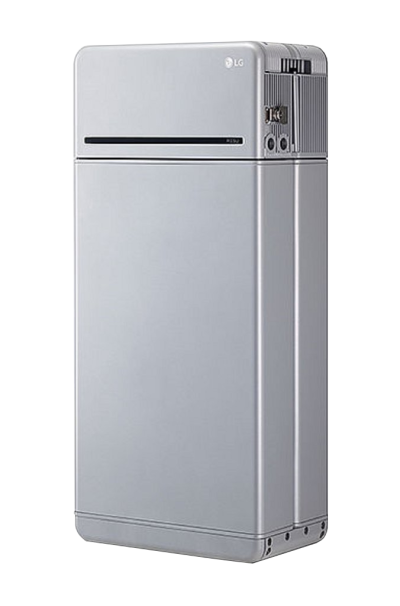 Battery Features
Renowned sfafety capabilities
App/web based monitor for full battery usage visibility
Easy control unit replacement
Full Home backup solution
Easy installation
Compact and long lasting battery
20% increase in energy density compared to previous generation
Automatic Firmware Update
Country of Manufacture
China
Part of the third generation of the LG CHEM Resu range, the RESU16H prime currently holds the rank as the largest lithium-ion residential battery storage system in the world. Able to supply a total energy capacity of 16 kWh without the addition of any other battery units. Providing a continuous power rating of 7 kW, and a peak rating of up to 11 kW, the battery unit is able to provide backup for high-surge power appliances, which require a lot of power when they first turn on, then level out, such air-conditioning units and pumps.
Featuring industry-leading continuous power, storage capacity and DC round-trip efficiency (>90%), the battery is making waves in the industry, and is a magnificent choice for any home considering a battery. Not only this but two RESU16H prime battery systems can be stacked together for up to 32 kWh of energy storage capacity, which is more than enough to fully cover many homes daily electricity use, all through the night.
With such large energy capacity, the system also makes for a fantastic backup solution, able to support even the previously mentioned high-surge power appliances, the system is more than enough to keep the lights on when it matters most.
Features
Convenience: The RESU high voltage can be installed inside or outside, on a wall or the ground. LG Chem has simplified inverter connections to make the installation both shorter and more affordable.
Performance: With continuous power, DC round-trip efficiency, and greater durability than other batteries available on the market, the RESU high voltage is a high-end product, offering only the highest quality in solar energy storage.
Safety: RESU high voltage batteries possess the same record-setting safety technology as LG car batteries along with all relevant international standard certifications.