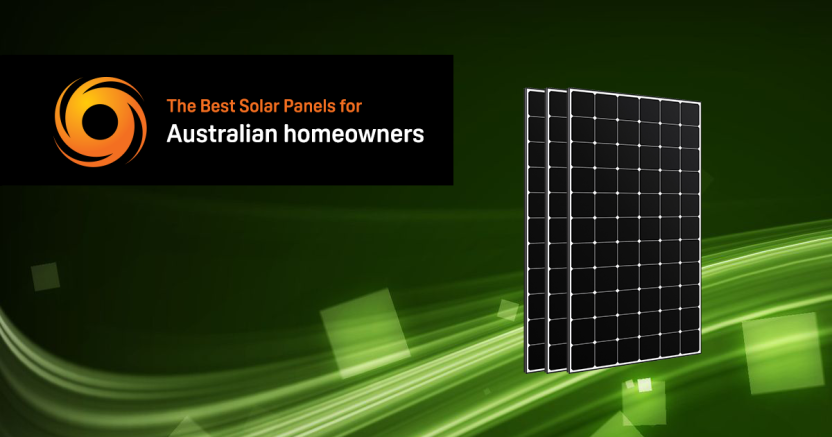 When deciding on the best panel for your home, there are a number of factors one needs to consider. The best panel for a home in Europe might not be the best panel for a home in Australia. We only stock the best of the best, but what's the best for you?
Well, read on, as we cover the five most important features for Australian consumers to consider when comparing panels, and our choice for the front runner in each.
Product and Performance Warranties
Australia contends with one of the most severe climates in the world, so there is always a possibility of damage or breakage throughout your panel's lifetime. That's why it's important to choose a panel with a warranty that will see you supported for the long haul, should an unfortunate incident occur.
We only offer panels from manufacturers we are confident will support their Australian customers with their warranty claims, but when it comes to the best of the best, it's hard to look past SunPower. SunPower offers a 40-year complete confidence warranty that acts as both a Performance and Product warranty on their panels. 
Coming in second place is the 'Trina Vertex-S Plus' from TrinaSolar, which comes with a fantastic 30 year performance warranty, and 25 year product warranty. Allowing their customers to be confident in their system for years to come.
JinkoSolar and Q Cells also offer admirable warranties between 15 and 25 year product warranties and 25 year performance warranties.
Winner: SunPower
Second Place: TrinaSolar
Panel Efficiency
There's a reason SunPower panels are used for some of the most extreme solar projects in the world, including solar cars racing across the Australian outback, and NASA experiments in the frozen arctic. Per panel, it's very difficult to beat the levels of efficiency SunPower panels offer. Their Maxeon panels currently hold the world record at 22.8%.
That's not to say our other offerings fall far behind either. TrinaSolar is Australia's most popular solar panel brand with good reason; the 'Trina Vertex-S Plus' offers 21.9% efficiency, not all that much of a drop, but at an excellent economy rate.
The other panels we offer all hover within the range of 19.6% to 21.5%, as we have little interest in anything but top quality. 
Winner: SunPower
Second Place: TrinaSolar
EVA or POE Encapsulant
Yes we know that just sounds like a pair of nonsense acronyms, but believe us this matters, especially in the Australian market. EVA or Ethylene Vinyl Acetate is the traditional film used to encapsulate solar cells to protect them from the elements.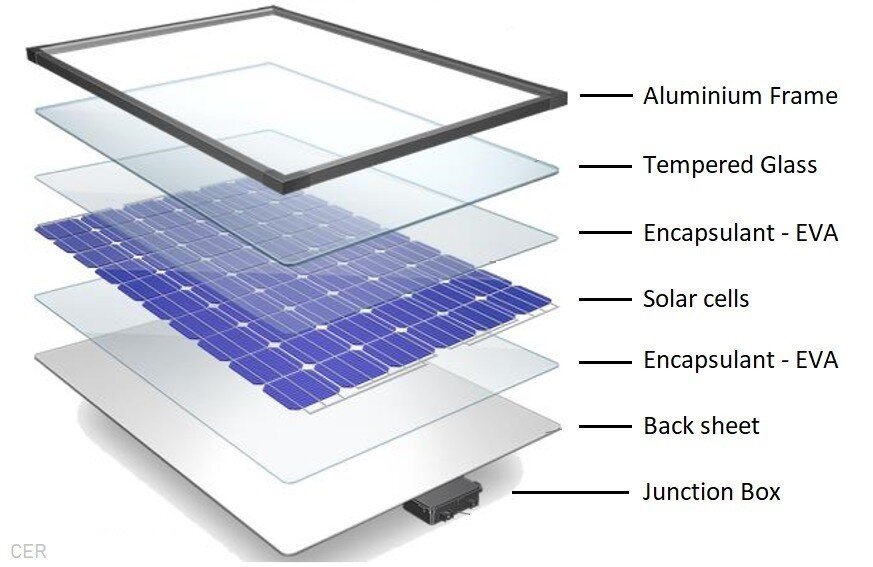 EVA has been used for a long time with varying degrees of success depending on the quality of EVA used by the manufacturer. However, the moisture, heat and UV-aging resistance of EVA, along with yellowing can cause lower power output over time.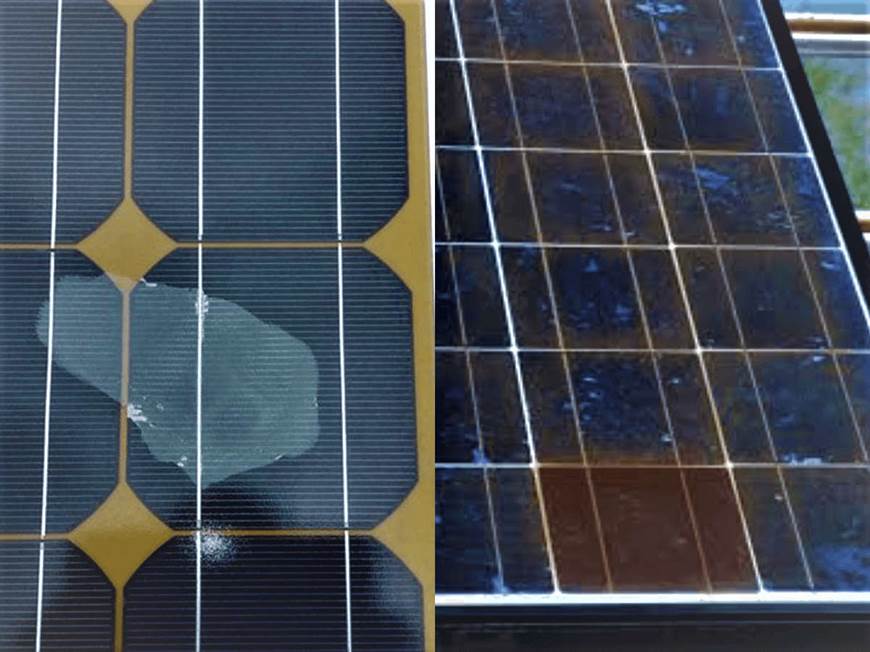 POE encapsulant (or PolyOlefin Encapsulant) on the other hand offers a number of advantages, including greater UV & weather resistance, degradation resistance, optical transmission, and general durability & reliability.
Leading plastics & chemical company, Dow, compared EVA and POE based solar panels over a three-year period. They found the EVA-based panels lost three times more total power output than the panels with POE encapsulant.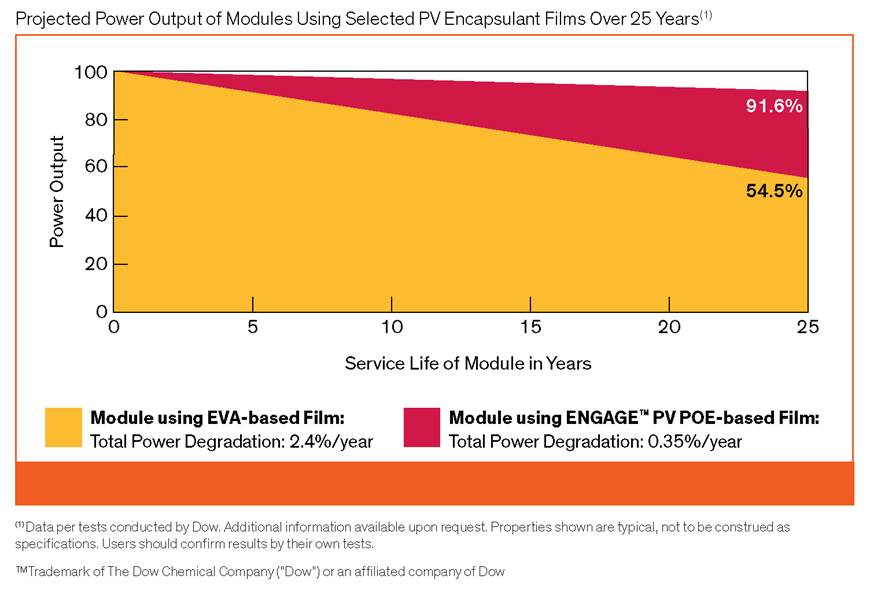 SunPower and TrinaSolar both use POE encapsulant for all panels sold in Australia, making them a clear winner on this front. Especially for locations with high UV and/or high humidity.
Winners: SunPower & TrinaSolar
Harsh Weather Performance
In Australia's harsh climate the performance of any device installed outside should be a consideration. Especially solar panels, which are exposed to the peak heats of the summer sun, as well as any rain, high wind, snow, or even high amounts of salt from the seabreeze.
We only select panels we are confident are going to perform well in all climates found in Australia. But for the absolute peak in durability and robust performance, we have to give it to SunPower Maxeon. They are the safest bet for installation in harsh environments, and are the most robust panels on the market.
These panels have unique cells built on a solid copper foundation making them virtually impervious to corrosion and cell micro-cracks. The video below shows just how flexible SunPower Maxeon cells are.
SunPower Maxeon panels' extreme durability is why they were chosen by NASA for their Grover, Helios and Pathfinder experiments, as well as several other record-setting / high stress solar projects you can read about here.
Taking silver for durability are Q CELLS panels, which have been cyclone tested to withstand even a 1-in-500 year storm. Both SunPower & Q CELLS are top performers in the Desert Knowledge Field Test in Alice Springs. Their performance is undeniably very close to one another, and either would be an excellent choice. See below for a comparison of SUNPOWER and Q CELLS vs the average of all systems being tested for energy production.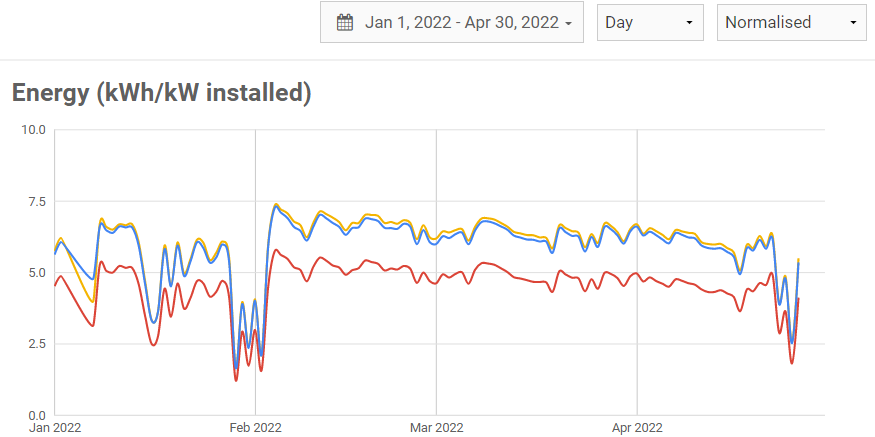 Winner: SunPower
Second Place: Q CELLS
Aesthetics
Now aesthetics are a personal choice, but personally we find it difficult to look past a sleek, all black design and that's exactly what the SunPower P3 offers. 
Not only are the panels themselves all black, with any metallic connectors or lining hidden with ingenious shingling design, but the brackets, and even mounting kit are also an appealing full black. Mounted on your rooftop en masse, they look sleek, smooth, and all round fantastic.
Winner: SunPower
So there you have it. Every panel has its advantages, whether that be cost, aesthetics, performance, or durability. All together, our winner for today is SunPower, but it's up to you what you consider your priority when selecting a panel. If you'd like to learn more about any of the brands we offer please don't hesitate to get in touch today on 1300 73 93 55 or by filling out the form below.
 
Enter your details and we'll get right back to you