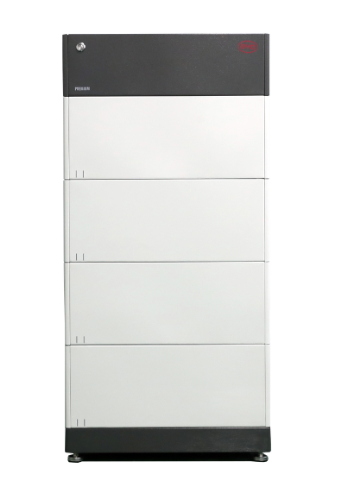 Battery Features
High continuous output
High peak output
Adaptable design allows for the addition of greater capacity later
Compatible with most inverters
Product Dimensions
712 x 585 x 298 mm to 2110 x 585 x 298 mm
Use. Capacity
5.1-22.1 kWh
Country of Manufacture
China
BYD's solar energy storage system, the Battery Box Premium comes in two types, the HVS and the HVM, between the pair, they are able to offer a variety of energy capacities, thanks to the battery boxes modular design. Able to offer storage capacities from 5.1 kWh all the way up to 22.1 kWh, whatever your home's energy needs, the battery box can accommodate them.
High Power, Maximum Output
One of the Battery Box's defining features is its impressive peak output, able to double its continuous power supply output (which in itself is impressive, being equal to the system's nominal storage capacity, far higher than most batteries), for up to three minutes. This allows for the high amounts of energy that air conditioners and other systems that use electric motors need to get started, and it is something that most solar energy storage systems are unable to provide.
Adaptable design
Thanks to its modular systems, the BYD Battery Box can easily have additional units added, in order to scale it to whatever your energy needs may be, you can even connect multiple Battery Boxes together to operate as a single unit, allowing for the ultimate in energy storage.
Peak safety
Designed using cobalt-free Lithium Iron Phosphate, and a Patented Modular Plug Design which requires no internal wiring, the Battery Box Premium offers excellent lifelong safety, as well as high levels of power throughout its impressive lifespan.
To get the most out of your BYD battery, we recommend combining it with a Fronius inverter such as the GEN24, so that you can enjoy features such as:
Use of PV energy at night
Demand-oriented back-up power
Simultaneous supply of loads and charging of battery in the event of a power outage
High self-consumption and self-sufficiency rates.