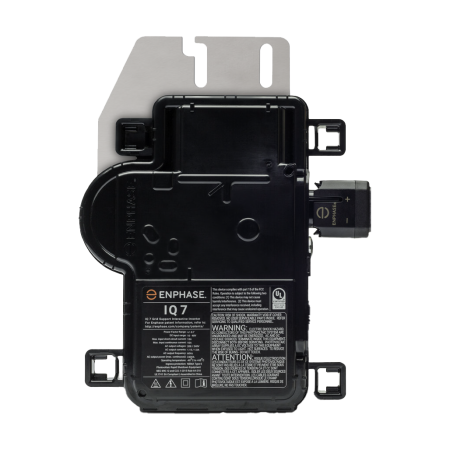 Inverter Features
Increased performance
Simple & Smart
Easy to expand
Model
IQ7-60-2 and IQ7PLUS-72-2
System Size
195-330W and 235-400W
Product Warranty
10 years on workmanship and materials
The IQ 7 Microinverter family
We offer the full range of Enphase Microinverters, including; the IQ 7, the IQ 7+, the IQ 7X and the IQ 7A microinverter.
IQ 7, IQ7 X, IQ 7+
Solargain is now offering the Enphase IQ 7, IQ 7X and IQ 7+ microinverters. They feature higher power and efficiency as well as less components than previous models.
The Enphase IQ7 series are smart-grid ready systems, built upon Enphase's seventh-generation platform. The series' cabling system, combined with its polymeric enclosure makes it easy to install the systems on every panel in your PV system, ensuring greater levels of efficiency than ever.
Optimised for high powered 60-cell / 120-half-cell and 72-cell / 144-half-cell and 96-cell modules
Million+ hours of testing
Class II double-insulated enclosure
Compliant with advanced grid support, voltage and all frequency ride-through requirements
Capable of remote updates for responding to the changing requirements of the grid
Configurable for varying grid profiles
* The IQ 7+ Micro is required to support 72-cell / 144-half-cell modules
** The IQ 7X Micro is required to support 96-cell modules
IQ 7A
The IQ 7A is a higher-power variant compared to the rest of the seventh-generation IQ platform is designed and optimised for 60-cell /120-half-cell and 72-cell/ 144-half-cell modules. Just like the other members of the seventh generation, it benefits from a revolutionary cabling system and polymeric enclosure simplifying installation.
Max Output Power: 366 VA @ 230 VAC
Recommended PV module input power: 295-460W+
Operating Range : 18 V–58 V
96.5% EU Efficiency