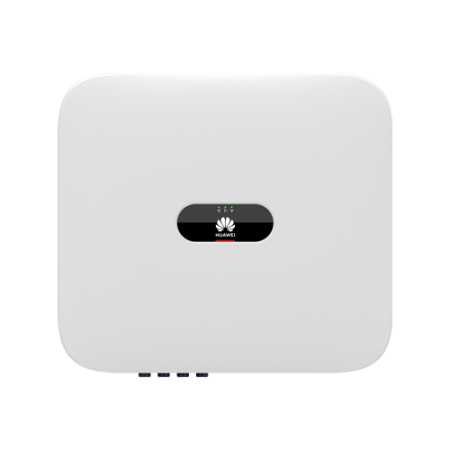 Inverter Features
Maximum efficiency 98.65%
European efficiency 98.3%
Model
SUN2000-8/10/12/15/17/20KTL-M2
Product Warranty
10-year full comprehensive warranty (parts and labour)
Extendable up to 20 years
The Huawei SUN2000-8-20KTL-M2 is one of the best solar experiences currently available on the market today, offering safe, efficient and reliable operation.
Key benefits
Enhanced performance
The HUAWEI SUN2000-KTL-M2 uses an advanced digital control algorithm in order to offer you efficiency levels as high as 98.65%, meaning that your home receives more useable solar energy than you'd expect from other inverters.
Panel optimisers
The main factors that cause power loss are leaves, shading, soiling and dropping. In a standard solar PV system, if just a single panel is weakened or damaged by any of these factors, the entire array's performance is likely to be compromised. With optimisers, only the impacted module will suffer a decrease in energy production. not the entire array. By enhancing the performance of every individual panel optimiser, allow up to 30% more electricity to be generated. Ultimately, optimisers allow you to have more panels on your roof, without fear of the entire system being compromised by one that's suffering from shade, meaning more energy is generated overall.
Built-in PID recovery features
The Huawei SUN2000-8-20KTL-M2 includes an integrated PID recovery feature, which limits the modules' potential output in hot & humid weather conditions by as much as 70%.
Top-quality safety features
Huawei's AI-powered Arc Fault Circuit Interrupter (AFCI) is also included in the inverter, which substantially reduces the risk of DC arcing occurring in your solar PV system. The SUN2000-8-20KTL-M2 detects faults accurately, avoids false alarms and automatically shuts down within 2 seconds. This ensures that even in the rare instance that something does go wrong, it does not get worse.
Amazingly quiet
The Huawei SUN2000-8-20KTL-M2 operates at 29 dB, which's as quiet as a library, meaning it'll never be annoying or intrusive.