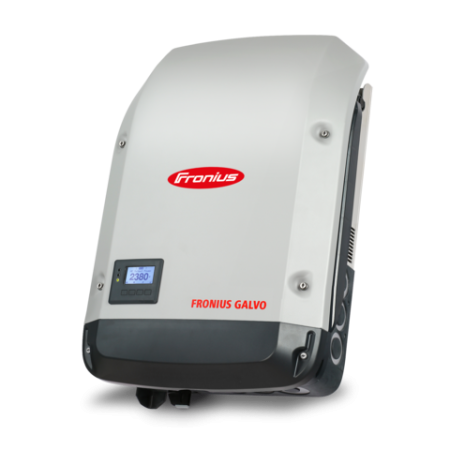 The Fronius Galvo is the smallest inverter in the SnapINverter range. It comes in 1.5kW to 3.0kW models, making it one of the first inverters to bring premium features to the smaller size class. Normally manufacturers make these features exclusive to the larger models, but Fronius has innovated the small inverter market once again.
A small inverter to marvel
The Fronius Galvo is the smallest model in the SnapINverter range. It's perfect for homes with low power consumption or for those just trying to optimise their self consumption. Despite it's size, it still boasts high efficiency of 96.1% and the flexibility to do more in the smaller size class. Couple this with leading algorithms in the MPPT, which can only be developed from years of experience in the field, you get an inverter that extracts more kWh per kW than almost any other inverter on the market. Like all the SnapINverter range, the reliability of the unit makes them an ideal choice in remote and fringe of grid areas where reliability is vital. With Fronius' service team in Australia and Solargain's extensive reach, you can be confident that even if something goes wrong, a replacement is days away, not months.
More than just an inverter
The SnapINverter generation has changed the way we interact with our inverters. With on-board Wi-Fi (or with the included LAN port), you can easily connect the Galvo to their network at home. This however is only part of the picture. Fronius' outstanding free web service, Solarweb, enables customers to see their production figures via the internet from anywhere in the world. Furthermore, free iPhone and Android apps make accessing this data a breeze. The open communication protocol and energy management function enables you to integrate easily to components from third party suppliers and optimise the self consumption of power. Finally, customers can prepare for battery storage by incorporating a Fronius Smart Meter into their system. This device will enable Solarweb to show you not only how much power you're producing, but how much you're using in the house - even in real-time. With the Fronius Smart Meter installed, you can switch on any device and watch your consumption change instantly. You can also view reports on how much power you've used, exported and imported from the grid. This is vital information for those considering batteries down the track. The new SnapINverter generation makes all this possible, and it's taking solar inverters to a whole new level.
The Fronius Galvo is a premium smaller inverter with features usually reserved for bigger models. It will provide higher yields for many years and has all the features to make it more than just a solar inverter, but an energy management system for your home.
Inverter Features
Wi-Fi
SnapINverter design
Extendable warranty
Free access to Solarweb online portal
Optional Smart Meter for real-time in house consumption monitoring
System Size
1.5 kW to 3 kW