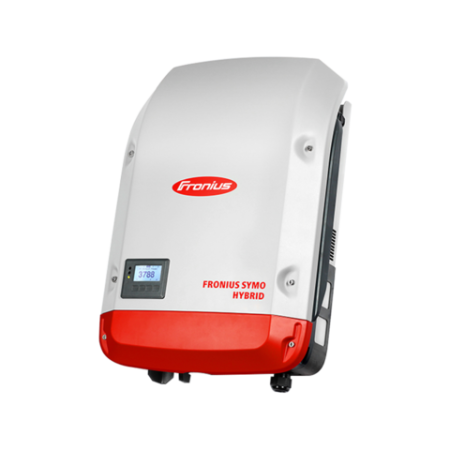 The Symo Hybrid is one of the first high-voltage, hybrid inverters on the market. Hybrid inverters enable people to connect batteries to their homes now or in the future. It also enables them to DC and AC couple of the batteries, which presents numerous benefits when incorporating batteries. It has a maximum efficiency of 97.6%, Wi-Fi connectivity, free monitoring via Solarweb, compatibility with the Fronius Smart Meter and an extendable warranty.
Hybrid is here
It's no coincidence that Fronius has been one of the first to market with a premium hybrid option. Fronius has a strong history with battery chargers, dating back to the 1940s, giving them a significant advantage on all the other hybrid solar inverter manufacturers. Other manufacturers have been able to release DC or AC coupled solutions, but few have been able to manufacture hybrid inverters with the same effect. Fronius has also introduced extra features into their hybrid inverters like multi-flow technology and complete system monitoring, making their Hybrid inverters a quantum leap for home energy. The inverter should always be installed with a Fronius Smart Meter, enabling the inverter to show you not only how much power you're producing, but how much you're using in the house - even in real-time. The inverter uses this device to know when to store power and when to use it. Having a Symo Hybrid inverter with the Fronius Smart Meter will enable you to install batteries down the track and pick the perfect sized battery to match your family's consumption needs.
Solar, even without power
The Symo Hybrid is the newest model and only hybrid inverter in the SnapINverter range. With additional components and firmware, it's one of the only solar inverters that can be configured to provide backup power This means that if you have available power from your panels, your system can be configured to draw on this power in an outage. In addition to being a backup inverter and offering ground breaking battery integration, it still has a max efficiency of 97.6%, Wi-Fi built in, leading MPPT algorithms, Dynamic Peak Manager and access to Solarweb. Solarweb, enables customers to see their production figures via the internet from anywhere in the world. Furthermore, free iPhone and Android apps make accessing this data a breeze. The open communication protocol and energy management function enables you to integrate easily to components from third party suppliers and optimise the self consumption of power. It will also show you all your household consumption in real-time when connected to a Fronius Smart Meter. Shortly, the Fronius Symo Hybrid will also be able to be configured to provide electricity, even in the event of a power outage.
The future of home energy is here thanks to the Fronius Symo Hybrid. Prepare for the battery storage solutions of the future while making the most your roof top today.
Inverter Features
Battery connectivity
Wi-Fi
SnapINverter design
Extendable warranty
Free access to Solarweb online portal
Optional Smart Meter for real-time in house consumption monitoring
Model
Symo Hybrid 5.0-3-S