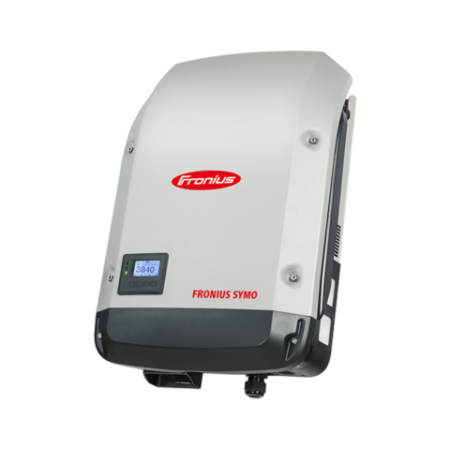 Inverter Features
75 years experience manufacturing DC power equipment
SnapINverter design
Active Cooling technology
WiFi for online monitoring of solar production
Optional Smart Meter for home energy usage monitoring
MPP Tracker No.
Varies by Model
Input Number
Varies by Model
Country of Manufacture
Austria
Product Warranty
5 Years
Free 5 Year warranty extension (parts & labour) exclusive to FSP+ partners
The Symo is the three-phase inverter in the SnapINverter range. It has a large class range of 3kW to 20kW, making it suitable for all three-phase applications in both residential and commercial.
A three phase pioneer
The Fronius Symo is the purpose built three phase SnapINverter range. It was also one of the debut SnapINverter models. With a strong demand for three phase inverter technology and being one of the first SnapINverter products in the market, the Symo has been selected in most of our three phase systems. Like all the SnapINverters, high efficiencies come as standard, with the Symo boasting a maximum efficiency of 98.1%. Couple this with leading algorithms in the MPPT, which can only be developed from years of experience in the field, you get an inverter that extracts more kWh per kW than almost any other inverter on the market. The Dynamic Peak Manager also enables the inverter to generate more output with shaded systems than traditional string inverters. The reliability of the unit is surpassed by few in the field, making them an ideal choice in remote and fringe of grid areas where reliability is vital. With Fronius' service team in Australia and Solargain's extensive reach, you can be confident that even if something goes wrong, a replacement is days away, not months.
More than just an inverter the Fronius Symo
The SnapINverter generation has changed the way we interact with our inverters. With on-board Wi-Fi (or with the included LAN port), customers can easily connect the Symo to their network at home. This however is only part of the picture. Fronius' outstanding free web service, Solarweb, enables customers to see their production figures via the internet from anywhere in the world. Furthermore, free iPhone and Android apps make accessing this data a breeze. The open communication protocol and energy management function enables you to integrate easily to components from third party suppliers and optimise the self consumption of power. Finally, customers can prepare for battery storage by incorporating a Fronius Smart Meter into their system. This device will enable Solarweb to show you not only how much power you're producing, but how much you're using in the house - even in real-time. With the Fronius Smart Meter installed, you can switch on any device and watch your consumption change instantly. You can also view reports on how much power you've used, exported and imported from the grid. This is vital information for those considering batteries down the track. The new SnapINverter generation makes all this possible, and it's taking solar inverters to a whole new level.
If you require a premium three phase inverter for your project, the Fronius Symo is as proven, robust and as feature packed as they come. With amazingly high efficiency and a vast array of features, the Symo is a great selection for your home.