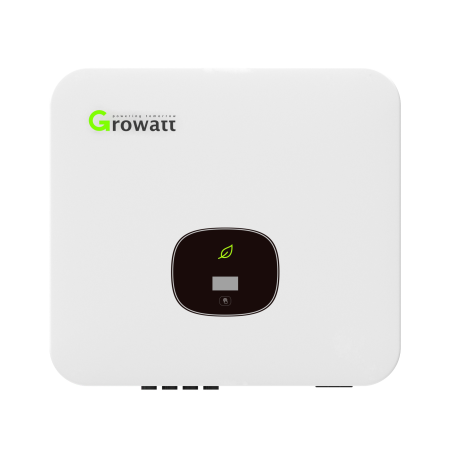 Inverter Features
Maximum Efficiency 98.1%
3 MPP Trackers
Type II SPD on DC
OLED display and touch keys
Supports External Control
Model
MIN 10000TL-X
MIN 9000TL-X
MIN 8000TL-X
MIN 7000TL-X
Country of Manufacture
China
Product Warranty
5 Years
Free 10 Year Warranty Extension when registered online
Coming from one of the most rapidly growing manufacturers in the industry today, the Growatt MIN 8000-10000TL-X is a fantastic, durable, and high-efficiency inverter for larger residential installations.
Reaching efficiency levels as high as 98.1%, and coming equipped with 3 MPP trackers and in-built support for export control, the inverter is set up to help homeowners make the most of their solar. Available in 8 kW, 9 kW and 10 kW sizes, it is an excellent choice for any larger residential solar installation.
Many homeowners face difficulty when making warranty claims with international manufacturers, but this is not an issue for those with a Growatt MIN 8000-10000TL-X inverter. Growatt have a branch office in Melbourne, as well as a dedicated support office in Sydney and are ready to assist Australian's across the nation should the need arise.
Not that it is likely to, after all, Growatt are known for manufacturing durable and powerful inverters like the Growatt MIN 8000-10000TL-X. They were opened with a mission of innovation and constant improvement, and it is this mission that has seen them become one of the most popular inverter manufacturers in the world and be crowned no. 1 inverter manufacturer in China 3 years in a row.
Any Growatt inverters (except off-grid inverters) are eligible to apply for a free 10-year warranty. Find out how to apply here.
If you'd like to learn more about these inverters, and see if one would be the right choice for you home, get in touch today.