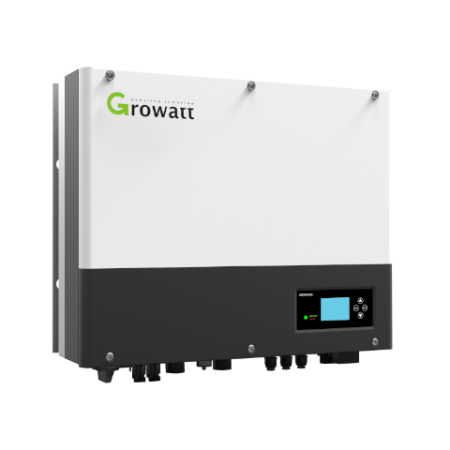 Inverter Features
Local Graphic LCD with easy LCD operation
Easy installation and compact design
IP65 protection degree
Natural cooling, no additional fans
Integrated backed-up function
Storage ready solution, you can add battery later
Dynamic feed-in control
Charging and discharging time and power schedulable
System Operation compatible with online smart service
Smart battery management ensure battery safety
Country of Manufacture
China
Product Warranty
Growatt inverters installed from 1st December, 2020 onwards are eligible to apply for a free 10-year warranty (usually 5-year parts & labour warranty)
Growatt's SPH inverter series has gone through more than six months of trials, with 800+ tests being performed on the systems in order to assure component reliability, harsh environment reliability and performance reliability in order to attain maximum safety levels for family usage. The system has acquired CEC approval, and rests as testament to Growatt's commitment to innovation and quality. In addition, Growatt's Online Smart Service System (OSS) allows end users to easily monitor their families power generation and usage from their smart phone.
Ever since they opened their doors in 2010, Growatt has been pushing boundaries and continuing to innovate and improve upon existing technologies, trying to push renewable technologies to be the best they can be. It is this value, and dedication to improvement that has seen them rapidly expand to become a worldwide operation.
Before unveiling this product, Growatt tested the inverter and battery for more than half a year with 800+ different tests regarding component reliability, harsh environment reliability and performance reliability to ensure maximum safety for family use. It also has CEC approval from July 2018.
The SPH hybrid inverter can be worked on both on-grid and off-grid modes.
SPH inverter and battery end users can easily store a maximum 11.4kwh solar power from their roof and use it at peak hours or when a blackout happens.
Also with the Growatt's Online Smart Service system (OSS), end users can easily monitor their family power consumption and generation from their mobile phone.
In the near future Growatt will launch the three phase hybrid inverters with larger input and output capacity, suitable for different scenarios.
Any Growatt inverters (except off-grid inverters) are eligible to apply for a free 10-year warranty. Find out how to apply here.