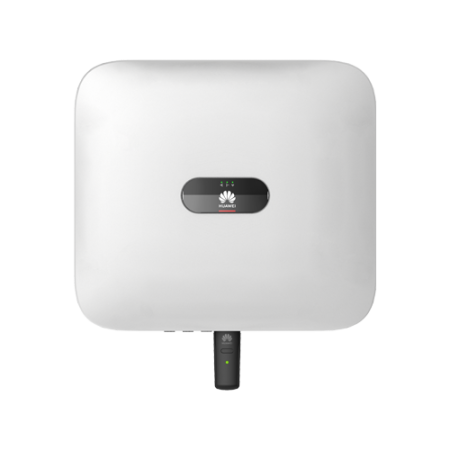 Inverter Features
Maximum efficiency 98.4%
European efficiency 97.5%
Integrated battery interface
Product Warranty
10-year full comprehensive warranty (parts and labour)
Extendable up to 20 years
The Huawei SUN2000-5-6KTL-M1 iterates on models that came before it to provide an improved solar experience.
Key benefits of Huawei SUN2000-5-6KTL-M1
Battery ready for Huawei LUNA or an LG Chem battery
The three-phase Huawei SUN2000-5-6KTL-M1 can easily be connected to a Huawei LUNA or an LG Chem battery in the future, thanks to its plug-and-play capability, without extra devices or additional retrofit costs.
Panel optimisers
In a standard solar PV system, if a single panel is weakened or damaged by something such as extreme weather, shading, soiling, leaves, or dropping, the entire array's performance level can be compromised. Optimisers account for this, and allow the rest of the system to operate without decreased production, only the panel damaged will feel the reduction.
On top of this, solar optimisers allow for up to 30% more energy to be generated by each panel by improving the efficiency of the panel.
With these two features together, optimisers allow you to have more panels on your roof, generate more power, and reduce the risk of system compromisation from any shade or damage that may occur.
Enhanced performance
The Huawei SUN2000 range comes equipped with an advanced digital control algorithm which allows it to produce more than 3000 kWh more than what other inverters would in their first 20 years of operation. With maximum efficiency levels of 98.6%, the Huawei SUN2000-5-6KTL-M1 converts more energy, faster, providing more power for your home.
Built-in PID recovery
Up to 70% of output loss incurred by hot & humid weather conditions is prevented by the Huawei SUN2000-5-6-KTL-M1's integrated PID recover system, which further improves the system's performance. Alongside all the other features, such as the digital algorithm, this feature is working to ensure your solar PV system is working at the absolute highest efficiency possible.
Ultimate safety
Solar PV systems, in certain conditions, contain the risk of DC arcing. This risk is alleviated in the Huawei SUN2000-5-6-KTL-M1 thanks to its AI-powered Arc Fault Circuit Interrupter, or AFCI. Arc faults are detected more accurately thanks to this system, and in the very rare case of such a fault occurring, the inverter will shut down automatically in as little as 2 seconds.
Silent
There's nothing worse than loud systems always on in your home, the hum of a fridge, the tick of a clock, the thrum of a PC, well don't worry about the Huawei SUN2000 range, as they operate at as little as 29 dB, which is as quiet as a library.