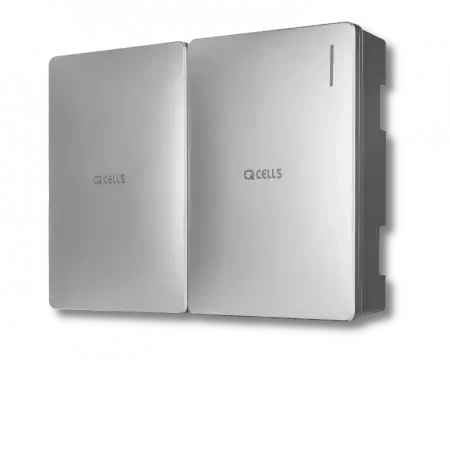 Inverter Features
Scalable solution up to 20.5 kWh of battery power
Smart Design - All in one solar inverter and battery
Emergency Backup options
Premium Quality and Peak Safety with Samsung Lithium-ion battery
System Size
5kW (6.86kWh - 20.5kWh)
Country of Manufacture
South Korea
Product Warranty
15 years Extended Warranty
The Q.HOME CORE is the next step in integrated solar power system solutions. Combining the Q.VOLT high performance hybrid inverter with up to three Q.SAVE modular batteries; the Q.HOME CORE is a sleek, beautiful, and powerful system. Using the Q.OMMAND HOME monitoring and energy management app, the system maximises energy output by incorporating real-time weather updates into its operating schedule to give you the best solar experience possible.
The Q.HOME CORE is the perfect system to pair with any of Q CELLS' award-winning, high-performance solar modules in order to dramatically reduce your power bills.
Q CELLS solar inverters and Q CELLS solar batteries
Hanwha Q CELLS are one of the world's largest photovoltaic cell manufacturers, and have a gained a great reputation for the high quality and efficiency of all their product offerings. There's a reason they've been Australia's most trusted solar brand since 2009. They were founded with the mission to innovate on and apply their state of the art solar technology to offer customers around the world the very best in solar. The new Q.HOME CORE is their latest innovation, iterating upon the Q.HOME to offer the latest and greatest in battery solutions to their customers.
The Q.HOME CORE, like it's predecessor the Q.HOME, offers a unique opportunity to Australian homeowners, to get a hold of a true complete energy solution, with the inverter, battery and panels all coming from the same manufacturer, providing the benefits of a single point of contact with their Australia support office, which offers:
24/7 Live Monitoring
7 days a week support line
24-hour response time
24/7 Active fault alert monitoring
National network of support technicians
Q.OMMAND energy management
Q CELLS solar management app, Q.OMMAND HOME allows for the monitoring and management of energy generation, storage and usage, anytime, from anywhere in the world. Updated every three seconds, it provides a real time view of your energy flow, as well as monthly, daily, and even hourly reports on your home performance. Cloud-based software updates continuously add new management features, iterating upon and improving your home energy monitoring capabilities, while advanced AI algorithms perform real time dynamic optimisation based on external factors such as weather, solar production and daily usage.