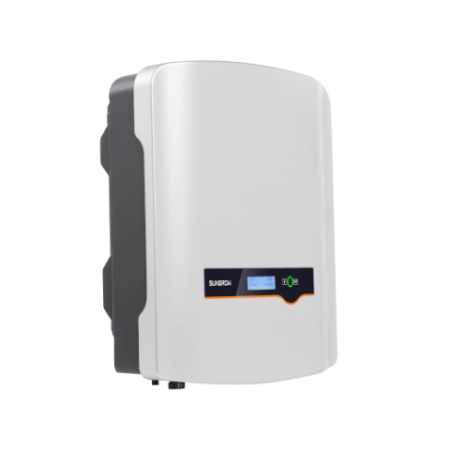 Inverter Features
High yields
Smart management
User-friendly design
Country of Manufacture
China
First opening their doors in 1997, Sungrow has since dedicated themselves to innovation and forward-thinking processes, and their portfolio includes PV inverter solutions and energy storage systems for residential, commercial and even utility applications, with their floating PV plant solutions receiving international recognition. At Solargain we're proud to offer a range of Sungrow inverters that are well equipped to meet the solar energy needs of almost any residential solar installation including the Sungrow SG5K-D premium.
The second best selling inverter manufacturer in Australia, Sungrow is well known for making high-quality, dependable inverters, and this model is no exception. Ideal for residential installations, the SG5K-D is a two string inverter, allowing for panels to be installed on multiple roof facing. Combined with a wide MPPT voltage range, this allows for adaptable solar solutions, shaping your solar energy installation to meet you and your rooftops needs. They are also extremely safe inverters, offering built-in DC isolators and quick arc fault interrupter technology as standard.
To take even greater advantage of the inverter, and take better control of your energy, look no further than Sungrow's iSolarCloud monitoring platform. Available on both app and web-based platforms, it allows you to track your SG5K-D inverter's production and optimise your energy usage.
If you'd like to learn more about Sungrow inverters, get in touch through the form below.
Enquire about Sungrow inverters