Product Image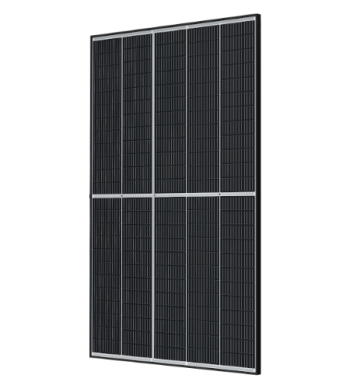 Features
Australia's #1 selling solar panel brand
21.9% Efficiency
Dual Glass
Heat Tolerance
- 0.30%/°C
Country of Manufacture
China
Product Warranty
25 Year Product Warranty
30 Year Product Performance Warranty
Warranted Degradation
1% First Year, 0.4% Annual Power Attenuation
Body
Trina Solar Vertex S+ 415 W Overview
Trina Solar are world renowned specialists in manufacturing crystalline silicon photovoltaic modules and system integration. They have been in operation since 1997, and have become a trusted name in solar through their almost 25 years in the solar energy industry.
Trina Solar's Vertex S+ panel is big on power, but small in size, and comes equipped with some of the best durability and efficiency features seen to date in residential panel design. Their upgraded dual glass design makes them less prone to micro-cracks and scratches during installation. They also provide greater mechanical resistance and environmental resistances, substantially improving your panels long term performance.
Trina Solar Vertex S+ Panel benefits
The Vertex S+ was designed to be compatible with all the major mainstream optimisers, inverters and mounting systems, making it perfect for any solar installation. With a flexible and compact design, no matter the roof, the Vertex S+ is a fantastic module to choose. Utilising advance multi-busbar technology, these panels provide greatly improved light trapping capabilities, improving on current collection and allowing your solar to generate more power, with fewer panels, making them a perfect choice even for smaller rooftops.

First 410W level modules designed for non-utility business.
As the first ultra-high power module type specifically designed for non-utility segment in PV history, this new launched 410W module series is not simply a completion to the Vertex family that incorporate 210mm cells but also will be viewed as a prelude to the new era of ultra-high power
modules specialized in distribution business.
Outstanding Visual Appearance
Designed with aesthetics in mind and excellent cell color control by dedicated cell blackening treatment and machine selection. Thinner wires that appear all black at a distance.
Small in size, big on power
Based on advanced technology from the Vertex platform. The new Vertex S module is perfectly designed to fulfill power, efficiency, size, weight, appearance, mechanical load, reliability requirements of rooftop application! Best balance of power and size & weight.
Trina Solar 210 Vertex Super Factory
The 210 Vertex Super Factory is home to the intelligent manufacturing of modules and the application of advanced technologies that are compatible with 210mm large-size wafers. From full automation to top-class tech innovation, TrinaSolar further leverages module efficiency and reliability to bring greater customer value.