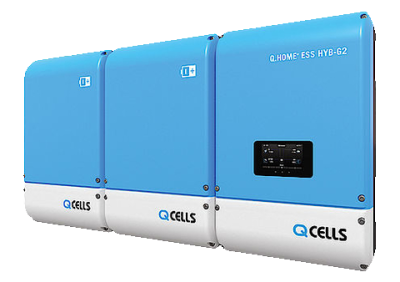 The Q.HOME Full Solar Storage System
The Q.HOME is the first full solar storage system in Australia. A single seamless integrated system comprised of a hybrid inverter, lithium-ion battery and complimentary home energy management system from SwitchDin, it allows Australians to harness the power of the sun like never before. Thanks to Q.HOME's gridless backup function, you'll never be left in the dark, so it's time to welcome it into your home to make your energy work harder and smarter.
The Q.HOME is the perfect system to pair with any of Q CELLS' award-winning, high-performance solar modules in order to dramatically reduce your power bills. Including a home energy management system, state-of-the-art monitoring capabilities and an energy meter, along with all the other components you could need, it's the ultimate system to help you achieve energy independence.
Want to get your home set up with an excellent Q.HOME system and top tier panels? Check out our Q.HOME package here.
What makes it so special?
The Q.HOME has three distinct points, that, among many other factors, make it truly stand out as the premier all-inclusive home energy storage solution for Australia.
A complete energy solution
The only PV+Energy Storage System that comes fully wrapped under a single brand, and bundled with premium services, the Q.HOME's modular, system allow you to take full advantage of the sun, whatever the size of your home. With options for 4 kW, 8 kW or 12 kW, the Q.HOME scales to meet your needs.
Back-up mode: never go dark again
The Q.HOME comes fully equipped with a reliable backup power mode, ensuring you keep the essentials running even in the event of a blackout. Unlike the majority of systems, Q.HOME does not need the grid for startup, and with powerful, reliable energy usage, it is the perfect system to keep the lights on when the grid goes out.
Single point of contact
Fully backed by simple and secure local support, the Q.HOME has arguably some of the most efficient service support available on the market. Its Australian support centre offers:
24/7 Live Monitoring
7 days a week support line
24-hour response time
24/7 Active fault alert monitoring
National network of support technicians
Australia's most trusted solar energy brand since 2009
Q CELLS is one of the largest, most-awarded PV brands in the world, and is supported by the Hanwha Group, one of South Korea's top seven conglomerates. Backed by a partner with a proud 67-year history, with experience, expertise and financial strength, Q CELLS is uniquely positioned to meet the needs of its customers worldwide.
Battery Features
Modular system provides scalable solutions
Smart Design - All in one solar inverter and battery
Remote Maintenance thanks to early error detection
Premium Quality and Peak Safety with Lithium-ion battery
Durability and High Cycle Strength
Backup Power Function
Product Dimensions
468 × 722 × 213
Country of Manufacture
China
Product Performance Warranty
10 Years
Use. Capacity
6.3 / 12.6 / 18.9